How Many People Are Actually Playing No Man's Sky After The Update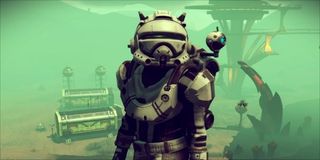 (Image credit: Hello Games)
Two years ago when No Man's Sky released it came out with a ton of hype behind it. So much so that the game was practically everywhere, with Hello Games' head honcho Sean Murray even making guest appearances on Steven Colbert's late-night talk show. The hype went a little overboard, though, and Hello Games paid for it dearly when No Man's Sky finally released and it ended up not being quite the game that had been promised. After two years of updates, two years of improvements, and two years of content patches, No Man's Sky is like a completely different game, and now we know just how many gamers are back and willing to give Hello Games a second chance.
As pointed out by Sean Murray on the official No Man's Sky Twitter account, after two years of hard work and dedication, the team now has 50,000 concurrent players logged into and playing the game on Steam alone. This isn't including the number of gamers who have been putting in time and effort into the PlayStation 4 version, or the recently released Xbox One version of the game as part of the Next update.
This makes No Man's Sky the sixth most played game on Steam at the moment, just behind heavy hitters like Grand Theft Auto V from Rockstar Games, and Warframe from Digital Extremes. It's still a long ways away from super popular games like PlayerUnknown's Battlegrounds, which averages around 200,000 players, or Dota 2, which averages around 260,000 players.
Even still, it's rare to see a game that gets widely derided and review-bombed make a comeback two years later and not only have the user review scores turn around but also manage to become one of the top most played games on a platform.
A lot of the high praise and the about-face from the gaming community comes from the fact that the game now has a ton of features that were originally promised for the 2016 release but didn't arrive until the Next update. This includes the highly anticipated multiplayer mode, where players can now meet up with other players from around the galaxy, participating in group adventures, battling it out in PvP, or teaming up with strangers in order to acquire some rare minerals.
No Man's Sky also includes the new character customization feature, along with the enhanced base building.
Basically, this shows that with a lot of hard work, dedication and understanding of what the community wants, just about any game can eventually become good. It certainly still seems to fit in line with what Nintendo's creative director Shigeru Miyamoto mentioned about a bad game eventually becoming good where-as a rushed game will forever be bad. Hello Games is probably also thankful that we live in an era where post-launch updates are a thing, and that they were able to iron out all the kinks of No Man's Sky and finally bring some positive press and user reviews to the title.
Your Daily Blend of Entertainment News
Staff Writer at CinemaBlend.