WWE 2K19 Reveals Brand New Game Mode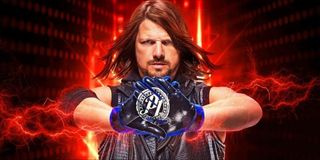 (Image credit: 2K Games)
Sports games can pick up some really harsh criticism with each outing for being a rehashed retread of the previous year's offerings. It's a curse many annual sports titles suffer from because development studios only have just under a year to get a new game up and out for the following year. It's a vicious cycle that we oftentimes see play out with the annual Madden NFL games. This year, however, WWE and 2K Games are hoping to mix things up a bit with the WWE 2K19 outing by adding in a brand new game mode to help lure in wrestling fans and give curious sports gamers something interesting to play with.
The news posted over on the official WWE 2K website, where it was revealed that a brand new Towers Mode is being included in WWE 2K19 for PC, PS4 and Xbox One. Sorry Nintendo fans, no WWE 2K19 for you this year on the Nintendo Switch.
The new Towers Mode is very similar to the towers in Mortal Kombat X, where players would battle through opponents in order to reach the top of the tower and earn rewards. In the case of WWE 2K19, there are a variety of towers to complete and compete in within the Towers Mode.
Each of the towers is composed of various WWE superstars that you'll have to defeat in order to complete that particular tower. It's very similar to an endurance mode or a survival mode that's featured in other games such as Tekken or Street Fighter. Except in this case, the different tower options earn you different rewards.
There are two tower types, including a Gauntlet Mode, where you must complete the entire gauntlet in one session without losing or quitting. And there's the Steps Mode, where you have to complete a number of challenges, but you can save your progress between each match.
The Towers Mode will also feature random stipulations, match types, and conditions that will alter per each match, including making your health low, or giving you an extra finisher, or making you beat the clock. These stipulations will vary per match and give WWE 2K19 a very different kind of feel.
Some of these will also be part of daily and weekly challenges, as 2K Games attempts to buffer the game's live features.
Additionally, 2K and WWE are taking things a step further, tying the new Towers Mode to next year's Wrestlemania event. As part of the AJ Styles Million Dollar Tower, gamers will compete in the challenges and those who manage to rank in the top four will compete during the Wrestlemania 35 weekend next year. From there the winner will go on to compete against AJ Styles in the finals for a chance to win $1 million.
If you're not into the whole eSports element of WWE 2K19, don't fret. You'll also be able to play the Towers Mode casually, even creating your own tower and challenging your friends using the MyPlayer creation suite to go through the mode.
You can look for WWE 2K19 to launch on October 5th for home consoles and PC.
Staff Writer at CinemaBlend.
Your Daily Blend of Entertainment News
Thank you for signing up to CinemaBlend. You will receive a verification email shortly.
There was a problem. Please refresh the page and try again.