Tekken 7 Adds Street Fighter Villain Akuma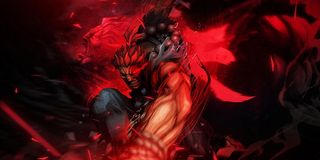 If you heard a loud squeal coming from the fighting section of the gaming community this morning, it's because Bandai Namco just made a surprise announcement for upcoming Tekken 7: legendary Street Fighter boss Akuma is going to be in the game.
The latest trailer for Tekken 7: Fated Retribution starts off innocent enough. A voice-over explains how war is just over the horizon, which will bring with it the destruction of countless innocent lives. You know, standard fighting game stuff.
Anyway, we're next treated to some scenes of Tekken boss Heihachi being all dramatic and stuff, and then mother-flipping Akuma from Street Fighter shows up to wreck the party.
Talk about a totally unexpected turn of events. Akuma certainly looks to play like his old self in some action sequences, followed by a promise that "This fight will change everything," and then a bunch of other fan-favorite characters are paraded out one by one.
Comments are unfortunately disabled for the video, but we imagine most of them would be joyous yelling written in all caps, with something like a dozen exclamation points tacked on to the end of each sentence.
As the folks atSiliconera have reported, this announcement was made official during the grand finals at the Tekken 7 King of the Iron Fist Tournament 2015. Again, I really wish somebody would have caught the crowd reaction on camera. I imagine it was intense.
Akuma will first make the jump onto arcade versions of Tekken 7, and we assume he'll be in tow when the game finally arrives on the PlayStation 4 at some point in the future.
This isn't the first time these two series have collided, however. A project was started years ago that saw both Capcom and Bandai Namco developing crossover games. While Street Fighter X Tekken released a while back, Tekken X Street Fighter, or whatever they want to call it, is still a no-show. Perhaps Akuma popping up in Tekken 7 is a proof of concept, showing that the team is still pursuing the project and, look, it might be pretty rad when it actually comes out!
Either way, we're huge fans of crossovers in games, so this seems like nothing but good news for Tekken 7 and the fighting community in general. It'll be fun to see what sort of havoc Akuma can bring to the already kinda street-rat-crazy world of Tekken.
Your Daily Blend of Entertainment News
Staff Writer for CinemaBlend.