EA Edited Colin Kaepernick's Name Out Of Madden NFL 19's Music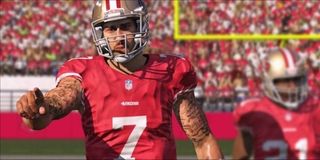 (Image credit: Electronic Arts)
Electronic Arts recently came under fire for something that fans noticed in Madden NFL 18 and Madden NFL 19 regarding former San Francisco 49ers quarterback, Colin Kaepernick: his name was edited out of music lyrics in two music tracks used in both games. This has resulted in some conversations about EA's intention for removing the former quarterback's name from the game, and why the company would move to make such a decision. In the initial release of Madden NFL 19, the collaborative song between 2 Chainz, Big Sean and Nicki Minaj featured a line about Colin Kaepernick, but it was edited out in the full release of the game, and EA was confronted about the issue as the news began to spread.
Polygon reached out to Electronic Arts for a comment on the matter, and EA responded by stating that it was an "unfortunate mistake" in an apology to the publication...
Polygon is reporting that the song, titled "Big Bank," featured a line that referenced Colin Kaepernick in the original song. However, in Madden NFL 19 gamers noted that the in-game version that plays in the options menu censors out Kaepernick's name by muting it.
This wasn't the first time this has happened. Another gamer pointed out that a song called "Bars of Soap," by Swae Lee and Mike WiLL Made-It, in Madden NFL 18 also referenced Colin Kaepernick and also had his name censored.
According to the report from Polygon, the artists did not request for Kaepernick's name to be censored, nor was it something that they approved of.
So, starting August 6th there will be a free update that will restore the song "Big Bank" to its original version and will re-include the reference to Kaepernick without censorship. In the response to Polygon, Electronic Arts also apologized to Colin Kaepernick, Big Sean and the others for the "mistake."
However, Electronic Arts doesn't address the issue of Colin Kaepernick's name being censored in Madden NFL 18. Others also pointed out that the NFL 18 discrepancy is even more baffling because, unlike Madden NFL 19, Colin Kaepernick is actually featured in Madden NFL 18 as a free agent. So, some were confused as to why EA Sports would go the extra mile to mute out Kaepernick's name in a song where he was still featured in the game under the NFL Player Association licensing agreement?
The issue regarding Madden NFL 19 is a little different because Colin Kaepernick is not featured in the game as a free agent, and some assumed that EA had his name muted from the song to prevent any licensing issues from occurring. However, as noted in the apology above, the full version of the song featuring his name will be updated into the game with the patch that rolls out on Monday, August 6th.
Your Daily Blend of Entertainment News
Staff Writer at CinemaBlend.