Battlefield V Trailer Breaks Down The Different Character Classes In Upcoming Shooter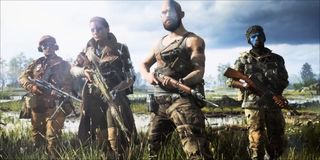 For some reason during E3 this year, Electronic Arts and DICE were exceptionally quiet about the content and features in Battlefield V. Most people expected a huge showcase for the game during the EA Play event, covering the character classes, modes, maps and vehicles. However, EA kept the display of Battlefield V rather limited and out of the spotlight. However, with GamesCom now fully underway, it appears EA and DICE really want to spotlight the features and gameplay of Battlefield V, and recently we've had multiple trailers covering the different options, with the latest trailer covering the character classes.
The two and a half minute trailer features in-engine footage of the game while a voiceover talks gamers through the new Company feature. You can customize your Company's outfits, weapons, gadgets and vehicles. The trailer explains that there are combat roles for each member of a Company. This includes the Recon role for snipers; the Assault role for those who like to run and gun; the Medic for keeping teammates alive; and the Support for providing additional ammo and heavy weapons on the battlefield. Each role has its own weapon loadout and specialization upgrades. The trailer also covers how you'll have special assignments to unlock new customization items for your company and new vehicles. The trailer rounds out with a look at the customization features in the game.
The big difference between Battlefield V and Battlefield 1 is that this time around, the character customization is now in the hands of players. Some of you might remember the complaints about the World War I shooter where players were forced to play as various characters in certain roles instead of being able to choose the character they wanted to play or customize their look. This time, each player will have their own Company to customize, and this will work as the general loadout for how you engage in the game.
Previously, you would have the four roles and their looks and gadgets were preset, but this time around you'll be able to customize every aspect of the roles, how they play and what they're capable of as you progress through the game.
A large portion of Battlefield V will be based around player-specific progression. This includes unlocking new abilities, new customization, and new weapons and vehicles.
DICE obviously took a very different route with this game when it comes to progression than what was featured in Star Wars: Battlefront II, which relied on loot boxes in order to progress your character and vehicle's abilities. This opened the game up for a pay-to-win factor that a lot of gamers did not appreciate.
Some gamers have already had an opportunity check out the new system as part of the closed alpha, which was highlighted in a post over on the Instagram page, and so far there hasn't been a lot of negative chatter, which probably prompted a sigh of relief from DICE and EA.
Battlefield V is due out this October for the Xbox One, PS4 and PC.
Your Daily Blend of Entertainment News
Staff Writer at CinemaBlend.