New Battlefield 5 Trailer Spotlights Vehicular Combat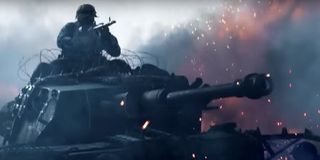 The latest trailer for Battlefield V has rolled out, boasting plenty of explosive firefights, crumbling buildings and a distinct focus on vehicles both on land and in the air. For those of you who were still somehow worried that the Battlefield formula was going to be altered beyond recognition this time around, it's likely this two-minute montage of insane war will calm your concerns.
Gamescom is set to kick off next week and the folks at DICE have decided to start the party a bit early with their official trailer for the show, called "Devastation of Rotterdam." It includes everything you expect out of a modern FPS trailer including whizzing bullets, swooping planes, massive tanks and even a cover of a classic rock song.
As noted above, the big focus in this most recent Battlefield V trailer is the vehicles. We get plenty of looks at tanks crushing rubble and firing their explosive rounds, jeeps sprinting through a conflict and planes roaring through the sky. Battlefield games have always leaned heavily on intense vehicular combat and, based on this "Devastation of Rotterdam" trailer, that will be holding true once again. Outside of the titular locale, we also get transported to maps including African deserts, snowy mountains and muggy marshlands.
Perhaps the most interesting thing about this trailer has been the community's reaction to it. Scrolling through the comments, it appears folks are finally coming around on Battlefield V. You may recall that many series fans were opposed to the introductory trailer, typically citing "historical inaccuracies" as a concern; which usually boiled down to "why are there women soldiers in World War II?" I won't get into the politics of all of that (DICE already spoke for themselves), but it's kind of interesting to see a few commenters continue that line of complaint. One points out that there are British forces on the Rotterdam map while another simply states that there are still "historical inaccuracies," but they're much happier with this trailer over previous clips. In a series that literally allowed an entire squad of players to ride a single camel across the desert, I'm not sure why historical accuracy is suddenly such a huge focus.
But, all of that aside, it seems like the vast majority of folks are now willing to give up the #NotMyBattlefield war cry since this trailer makes it more clear, somehow, that not much has changed. That should have been clear following E3, though, as many outlets posted videos and hands-on experiences following the show that demonstrated exactly what type of game Battlefield V will be. The action is as intense as ever, the maps are varied and intricate, abilities and loadouts have received the usual tweak, destruction is more dynamic and players have access to some new tactical abilities, like building their own cover or physically moving armaments around the battlefield.
We expect a couple more trailers to roll out before Battlefield V finally launches on Oct. 16, so expect to learn more about the single player campaign and additional tweaks to multiplayer in the weeks ahead.
Staff Writer for CinemaBlend.
Your Daily Blend of Entertainment News
Thank you for signing up to CinemaBlend. You will receive a verification email shortly.
There was a problem. Please refresh the page and try again.