Here's How Many Players Call Of Duty: Black Ops 4's Battle Royale Mode Will Have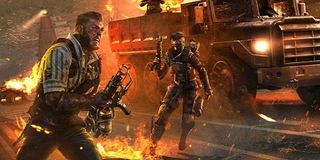 When Call of Duty Black Ops 4 launches this fall, it's going to sport a new battle royale mode called Blackout that supports a rather large number of players. According to Treyarch's Dan Bunting, you can expect up to 80 players to be dropped onto the map at one time, beginning with the beta.
This news comes to us from a recent Gameinformer interview covering the Blackout player count. The "standard" number in games like Fortnite and PUBG has been 100 players. The Firestorm battle royale mode in Battlefield V, on the other hand, will be 64. That puts Call of Duty's offering smack-dab in the middle of the spectrum but, across the board, we figure there are plenty of players to make the person (or team) earning the big win feel like they've pulled off quite the accomplishment.
Other than the fact that the Blackout beta is due out later this month, we've also learned that zombies and vehicles will be a factor in the gameplay, both of which should keep the competition interesting, to say the least. As for the player count, the team at Treyarch is making it clear that they didn't just arbitrarily pick a number out of a hat. Given the map's size, the expected tempo of the action, the inclusion of vehicles and undead adversaries, it sounds like early testing is showing that 80 players is the magic number to keep the action moving at a clip the development team is comfortable with.
Not to knock other battle royale games, but the one major thing that sets many of them apart from games like Call of Duty is the quality of shooting. But COD is a well-established shooter first, so you can imagine how important it was for the team to keep the quality of the experience high. At the moment, 80 players is apparently the comfortable number, but that could change down the road.
That's something that's certainly worked out well for Epic with their own battle royale game, Fortnite. One of the biggest reasons that game continues to succeed on such a phenomenal scale is that Epic is extremely active with its community and quickly implements changes and new ideas. The game is ever-evolving, giving players more and more reason to keep dropping back in for another fight.
Your Daily Blend of Entertainment News
Staff Writer for CinemaBlend.