Civilization 6 Is Coming To The Nintendo Switch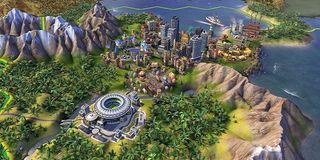 If you've ever wanted to build an empire on the go, then you'll be happy to learn that Civilization VI is heading to the Nintendo Switch. It sounds like Switch gamers will be getting the full package, plus some extras as well as online play when the game arrives on Nintendo's portable/home console hybrid later this year.
This report is being made with a caveat that the official announcement has been removed from the Civilization VI blog. The full reveal was posted Friday, Sept. 7, but has since been taken down. We've got all of the pertinent details though, as well as a pretty solid guess as to why the news has suddenly pulled a vanishing act. First, the details.
According to the announcement from 2K and Firaxis Games, Civilization VI is set to launch on the Nintendo Switch on Nov. 16-- just in time for the holiday shopping rush if you happen to know a gamer with a love for 4X goodness. Along with the entire base game, the Switch version will include a handful of updates that have been added elsewhere since the game's initial launch in 2016, including the Viking, Poland, Australian, Persia and Macedon packs. Those include fresh civilizations to play as, as well as new scenarios to enjoy. That makes for a pretty massive world domination experience, including nearly 25 leaders to pick from on your quest for glory.
The only other big piece of news from the reveal is that the game will support both competitive and cooperative play, though we are not clear if that was for local play only, or if you'll be able to take the experience online. Either way, it'll be a nice feature to help round out the package.
What's really cool about this reveal is that the Switch is the first home console Civilization VI has launched on. Outside of PC, Linux and Mac, the only other platform to receive support for the game has been iOS. That makes us wonder if the game's touch controls will be enabled in the Switch version.
As for why the announcement ghosted us, it likely has something to do with this past week's earthquake in Japan. Nintendo was gearing up to air a Direct on Thursday featuring news about upcoming Switch and 3DS games. That same morning, an earthquake hit Hokkaido, killing at more than a half dozen people. Nintendo decided that, out of respect for the tragedy, they would not move forward with their Direct on that day and would instead postpone it to the near future.
Despite that fact, some on Nintendo's partners wound up making their own reveals, which appear to have been timed to coincide with the Direct. A launch trailer for Yo-Kai Watch Blasters aired, for instance, as well as a reveal for Final Fantasy XV Pocket Edition on the Switch. With Civilization VI's trip to Nintendo's console popping up around the same time and then disappearing back into the fog of war, we're guessing the blog post will return whenever the Nintendo Direct finally takes place.
Your Daily Blend of Entertainment News
Staff Writer for CinemaBlend.