Frozen Joins Kingdom Hearts 3 In New Trailer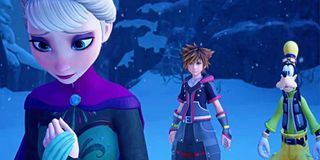 Microsoft's E3 showcase was packed with 50 games, including a series from Square Enix that has never appeared on an Xbox console before -- Kingdom Hearts. As such, they took the opportunity to make their Kingdom Hearts III presentation something special, revealing a brand new world players will be journeying to when the game finally launches. It looks like Sora, Donald and Goofy will be teaching Elsa how to "let it go" in Frozen.
If you've ever wanted to give Olaf the snowman a big, warm hug or go toe to toe with an ice golem, it looks like Kingdom Hearts III will be making all of your dreams come true. Previous trailers for the game have already confirmed players will be visiting the worlds of Monsters Inc., Toy Story and Tangled, as well as summoning the powers of characters like Wreck it Ralph. Between now and launch, we figure the occasional trailer will continue to confirm new lands for players to explore, just like Frozen. And being one of Disney's biggest smash hits to date, it probably didn't surprise many viewers that Sora and Co. will be visiting the kingdom of Arendelle. Still, it's nice to finally see what it will look like.
As for what you'll be doing while visiting the world of Frozen, previous Kingdom Hearts games have given us a nice blueprint at this point. Typically, the dynamic trio shows up just as a Disney film's conflict is starting to mount. In the case of Frozen, it looks like that point will be just as Elsa decides that her powers are too dangerous, forcing her to hightail it to the mountain.
It sounds like the voice cast is also back to reprise their roles from the film, though that might just be the result of some very talented actors with chameleon voices. Either way, we get to see Sora whip out some new abilities, including skates and bracers made of ice that appear to do a lot of damage. We also see the gang sledding down a mountain on Goofy's shield, and both Simba and Ralph get summoned in to clear the playing field.
The trailer takes a break from Frozen to show off a bit of the action in Tangled and Monsters Inc., as well as some sneak peeks at other bits of gameplay such as flying around space in your customizable Gummi ship.
Of course, no Kingdom Hearts experience would be complete without a song from Utada Hikaru, and the trailer concludes with a new single, "Don't Think Twice." There's also a whole bunch of typical Kingdom Hearts jibba-jabba about hearts, secret plans and mysterious organizations, so be sure to bone up on your lore before the game finally arrives.
Kingdom Hearts III launches for the PlayStation 4 and Xbox One on January 29, 2019.
Your Daily Blend of Entertainment News
Staff Writer for CinemaBlend.
Your Daily Blend of Entertainment News
Thank you for signing up to CinemaBlend. You will receive a verification email shortly.
There was a problem. Please refresh the page and try again.