Animal Crossing Comes To The Nintendo Switch Next Year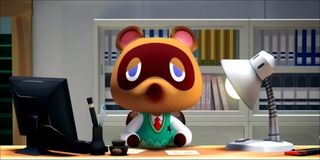 Nintendo has a tendency of dropping huge bombs during the Nintendo Direct announcements. They're usually 30-40 minutes, making big announcements about upcoming games for the company's handheld and home console systems. Gamers have become accustomed to expecting the unexpected, and yet still getting hit with games we totally did not expect. During the end of the most recent Nintendo Direct, there were two big announcements that tied into one another. The first was that Isabella from Animal Crossing would be making her debut in Super Smash Bros. Ultimate. The other big announcement was that Nintendo is working on Animal Crossing for the Nintendo Switch and that the game will release at some point in 2019.
The minute and a half long trailer starts with Tim Nook at his office, acknowledging that Isabella has joined the roster of Super Smash Bros. Ultimate. He then states that he has some other business to attend to and that he has to make sure that everyone has a nice home to come back to, at which point the screen fades to white and there's a logo showing that Animal Crossing is set to release in 2019 for the Nintendo Switch.
Now there isn't much to dissect from the trailer, other than the visual art-style used in the video and a couple of hints about the gameplay dropped by Tim Nook. For instance, he mentions that there will be camping, and we also see that there are packaged boxes in the office, which likely means that delivery will be present. The question becomes: how big will this new game world be and how much more expansive will the gameplay be compared to the last outing?
Speaking of which, the game series has been a huge success since its debut way back in the early aughts for the N64. The game rolled out as a surprise hit and a counter to EA and Maxis' The Sims, which came out just a year before.
The games are considered slice-of-life simulators, as they put players in the role of a human character who must complete certain tasks, maintain appointments, and generally live out life as a resident in the small village. Much like The Sims or Harvest Moon, players will have to partake in land maintenance, delivering items around town, going fishing, or engaging in various mini-games to pass the time.
Much like other games in the slice-of-life genre, you can also decorate your home, customize your character, and infuse some element of your own personality into the game world.
We'll have to wait at a later date to find out more details about the upcoming Nintendo Switch exclusive. I'm sure Nintendo will likely include some multiplayer element as well to go along with the new premium network service, but we'll still have to wait for more details on that as well. In the meantime you can play Isabella in the upcoming Super Smash Bros. Ultimate, which is currently available for pre-order over on the official Nintendo website.
Your Daily Blend of Entertainment News
Staff Writer at CinemaBlend.