The Walking Dead: The Final Season Episode Two Trailer Wonders If Clementine Will Survive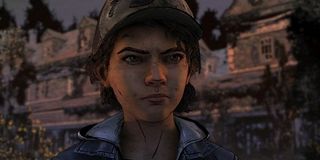 The Walking Dead: The Final Season is off to a rip-roaring start and, based on the trailer for the second episode, it looks like Telltale is upping the ante. A bit of dialogue from a surprise returning character paints a bleak picture of the future, calling into question whether or not Clementine will make it out alive. Fair warning, story spoilers for the first episode will be in the article that follows.
The second episode for the final season of The Walking Dead is set to go live next week, with "Suffer the Children" launching on Sept. 25. The entire series has been an emotional roller coaster, but this latest trailer gives us plenty of reason to believe the worst may truly be yet to come.
In case you've lost track of the plot and characters over the years, that is indeed Lilly offering a warning to Clementine in the new trailer, making her not-so-triumphant return after fading into the background following the first season. Lilly, who lost her father in a spectacularly tragic fashion, was the original leader of the group of survivors that Lee and Clementine joined in the first season. She takes a turn for the super paranoid, though, meaning that leadership of the group is foisted upon Lee. Obviously, they never really saw eye to eye after that.
Now, all these years later, Lilly has come back into the picture and tracked down Clementine's new rag-tag group of survivors. She tells Clementine that she'll die protecting her new adoptive family, be it from an unseen walker, a bullet or even "a desperate cry for help that brings the herd." She notes that it happened to Lee and warns that it'll happen to Clementine, too. This results in a cheer-worthy moment where Clem basically tells Lilly to keep Lee's name out of her mouth.
But, still, the trailer served its purpose of setting up a true sense of dread. Of course, it's possible Lilly is holding onto a grudge and just wants to make Clementine question herself, but there certainly seems to be a more sinister undertone to her warning. Thankfully, we won't have to wait long to see how everything plays out, as the next chapter is only about a week away.
After that, we've only got two chapters left to look forward to. "Broken Toys," the third chapter, is set to launch on Nov. 6 and, based on the title, it certainly sounds like things are heading in a pretty bad direction for Clementine and her crew. Then, just in time for the holidays, we get "Take Us Back" on Dec. 18, in case you were worried your holidays would be a bit too jolly.
It's pretty wild to think that the Walking Dead story is finally coming to a close all these years later, and I'd be lying if I said I wasn't worried about how things are going to turn out. Considering how things have gone up to this point, Telltale certainly isn't beyond wrapping things up on a real somber note.
Your Daily Blend of Entertainment News
Staff Writer for CinemaBlend.