New The Walking Dead: The Final Season Footage Shows Clementine Has Become The Protector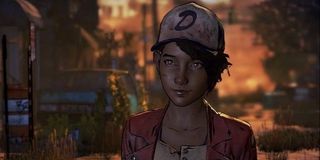 The latest footage from The Walking Dead -- The Final Season was revealed during San Diego Comic-Con, showing off a version of Clementine who is finally ready to take up the title of leader. That job description includes keeping her post-apocalyptic family safe from hordes of the undead; a role players have helped her prepare for over the course of the past four seasons of games.
When Telltale's The Walking Dead first shambled onto the scene back in 2012, nobody expected the episodic series to evolve into a phenomenon spanning five main titles and a handful of spinoffs. But the developer absolutely hit it out of the park with this one, introducing players to Lee Everett and his new charge, Clementine, a young girl who had lost her family following the zombie epidemic.
By the series' second season, Clementine was starting to come into her own, learning just as much about surviving hordes of zombies as navigating the tumultuous waters of human interactions. We've seen her grow a little more with each passing season and, based on what we've now seen in the big Comic-Con 2018 trailer, she's ready to evolve into a full-fledged hero of her own tale.
The Comic-Con footage is woefully brief, but that's also for the best when you're talking about one of these Walking Dead games. The stories are always full of twists, turns and emotional surprises, so it's probably best that we not know too much about the tale to come.
What we can glean from it, though, is that Clementine looks to be going full Rambo in this next outing. While the game series started with Lee protecting Clementine, she is now the character being relied on to keep others safe. And, seeing her run about with a knife and bow in hand, she's clearly capable of doing exactly that.
It's not often you get to follow a single character as long as we've followed Clementine in The Walking Dead. And what makes this series so special is that, given all of the player interaction and divergent story paths, players feel their own connection with Clementine because she is, in a way, unique. The choices one player has made as Clementine are not likely the exact same choices the next player has made. So, it's cool to get to see that kind of dynamic story finally come full circle.
The final season of The Walking Dead is set to launch on Aug. 14. Keep in mind that's just the first episode, with the rest of the story set to roll out on a regular basis. You can pre-order the full season, too, which will net you automatic downloads of the remaining chapters as they become available.
Staff Writer for CinemaBlend.
Your Daily Blend of Entertainment News
Thank you for signing up to CinemaBlend. You will receive a verification email shortly.
There was a problem. Please refresh the page and try again.