Red Dead Redemption 2 Is Getting A PS4 Pro Bundle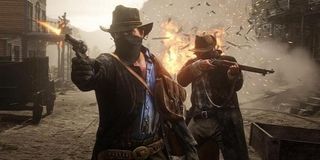 Red Dead Redemption 2 launches next month and, to celebrate, Sony is launching new bundle that will include the game, as well as a PlayStation 4 Pro. If you're looking to finally jump on the PS4 bandwagon, this looks like a pretty solid way to join the posse.
PlayStation Marketing VP Mary Yee recently moseyed onto the PlayStation Blog to reveal an upcoming Red Dead Redemption 2 PlayStation 4 bundle. If you're expecting a super-sweet new console design sporting some Wild West imagery, though, you might want to temper your expectations. While Sony launched a rad Spider-Man bundle boasting an exclusive red design for the console and controller, it looks like we're dealing with a run of the mill PlayStation 4 Pro console this time around. It's the 1TB jet black model and controller, with a Blu-ray copy of the game. That last bit is actually pretty nice since a lot of these bundles only come with a digital download of the promoted game.
If you're interested in picking up one of these bundles, it'll be available on the same day Red Dead 2 launches, Oct. 26, though you can certainly preorder it right now. As far as the cost is concerned, it'll set you back $399.99. If you haven't been shopping for a new console lately, that's the same price of a PS4 Pro without a game, so grabbing this bundle means you're basically getting Red Dead Redemption 2 free of charge.
As the post points out, RDR2 takes full advantage of Sony's latest hardware, including enhanced graphics and optimized performance courtesy of fancy tech running under the hood including 4K HDR and Supersampling Mode.
Based on the comments to the post, quite a few folks are disappointed that the console doesn't sport a special design or color to go along with the Red Dread Redemption theme, though others seem pleased as punch with the price. A couple folks even point out that this bundle will launch almost exactly one month before Black Friday, meaning it's a solid bundle with perfect timing to cash in on the holiday shopping craze. It'll be interesting to see how Microsoft and Nintendo will respond, as I figure this holiday season will be a big battle for the major console developers.
As for Red Dead Redemption 2, a lot of early hands-on impressions have started rolling out and everyone seems to be pretty impressed with the prequel to Rockstar Games' Western epic. The map will be spread across several large open areas this time around, as a gang of desperados tries to outrun the law. Players will also have more decisions to make to shape their own unique presence in the untamed wilds and, as was recently revealed, Red Dead Online will launch not too long after the game ships, which should help keep players hooked for quite some time.
Staff Writer for CinemaBlend.
Your Daily Blend of Entertainment News
Thank you for signing up to CinemaBlend. You will receive a verification email shortly.
There was a problem. Please refresh the page and try again.