Production Company Buys The Rights To Street Fighter: The Movie Game, 64 Other Retro Titles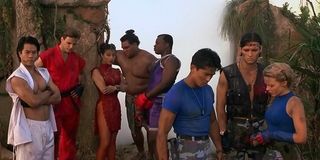 Retro gaming is all the rage these days, which is exactly why Liquid Media Group has decided to pick up 65 video game properties, including Street Fighter: The Movie, for a deal equaling about a million dollars. While licensing issues will keep them from publishing or creating sequels for some of these games, the fact that they've been acquired means that Liquid Media is likely planning to resurrect at least some of these titles in some fashion or another.
Of the 65 games Liquid Media Group has acquired from Throwback Entertainment, the one that immediately caught our eye is Street Fighter: The Movie. This bizarre fighter is best known for how awful it was, as a game based on a similarly terrible movie starring Jean-Claude Van Damme. It was also Raul Julia's final film, which just seems cosmically unfair. Still, if Liquid Media is able to get it back out on the market, we imagine quite a few folks would want to add it to their collection for its weird place in gaming history alone.
The folks over at Geek Wire have the full list of recently-acquired games ready for your perusal, including the likes of All Star Baseball, Bubble Bobble, Bust A Move, NBA Jam, NFL Quarterback Club, NHL Breakaway, Tee-Off and more. Again, licensing will likely provide plenty of red tape for preventing some of these games from making their way onto the market easily, but we'll just have to wait and see what Liquid Media Group has planned. Based on their announcement, it sounds like they're more interested in making these old-school games available for a new audience rather than developing sequels or spin-offs.
In a statement explaining the acquisition, LMG Chairman Joshua Jackson explained that his team has been motivated by the resurgence of classic gaming. Nintendo has found much success with its NES and SNES Classic and, just a couple of weeks ago, Sony announced it will be launching a PlayStation Classic this holiday season pre-loaded with 20 games. There's clearly a market for this brand of gaming, as both Nintendo mini-consoles sold like crazy and PlayStation expects a similar reception. If nothing else, acquisitions like this are exciting because it shows some companies are interested in preserving games history, potentially making older titles available on digital markets rather than letting them fade completely into obscurity.
According to the original report, Throwback Entertainment received 670,000 shares of Liquid Media stock in exchange for rights to the 65 games, which amounts to a transaction worth about a million bucks. Given their inspiration from Sony and Nintendo, it's possible we could be looking at a collection of some sort, rather than a bunch of older games being made available piece meal.
Your Daily Blend of Entertainment News
Staff Writer for CinemaBlend.