The Witcher Author Wants Millions In Royalties From The Game Developers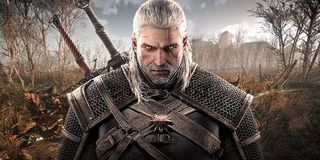 The Witcher series of video games has been quite successful, something the source material's author, Andrzej Sapkowski, has not overlooked. In fact, he's currently suing developer CD Projekt Red, claiming they owe him at least $16 million in royalties. Whether or not that's accurate will be up to the Polish authorities to determine, though CD Projekt has thus far outright denied any wrongdoing.
This report comes to us from Polygon, who picked up on a document recently released by Sapkowski claiming that CD Projekt owes him a heck of a lot of money. For starters, if you weren't aware, the Witcher series of video games is based on a series of popular Polish books. The books started rolling out in 1986, proving inspirational to the team at CD Projekt. They went on to purchase the rights to the world within the novels, eventually turning their efforts into The Witcher, a video game first launched in 2007. Two sequels followed, including the insanely popular The Witcher 3: Wild Hunt, as well as a number of DLC expansions.
According to the original deal and based on an interview from a couple years back, Sapkowski admits that CD Projekt offered him terms that, today, he regrets not taking. Sapkowski said that the developer originally offered him a cut of their profits from the video games based on his books, but he decided to ask for a lump-sum payment from the onset because he "didn't believe in their success." In other words, he wasn't convinced The Witcher would go on to make money so, instead of taking six percent of the profits from the lifetime of the franchise, he asked for a single check at the very beginning.
Obviously, The Witcher proved to be very successful, and now Sapkowski feels he has been denied compensation he deserves. According to his claim, he says that CD Projekt's contract was only for a single game, not an entire series or DLC. All told, he claims he is owed around $16.11 million for Wild Hunt alone. Sapkowski's letter further explains that the original contract does not comply with a Polish law concerning compensation for the purchase of rights.
CD Project has issued its own statement in response to the claims, saying that, in the company's opinion, the demands are "groundless with regard to their merit as well as the stipulated amount."
These kinds of disputes aren't super uncommon, as folks occasionally sell the rights to their properties only to have said properties go on to become more successful than they could have imagined. The question is whether or not the original contract has been properly carried out and whether the specific law referenced by Sapkowski applies.
In other news, The Witcher is moving along well as a developing Netflix series, though I imagine Sapkowski was a bit more careful with his rights contract this time around.
Your Daily Blend of Entertainment News
Staff Writer for CinemaBlend.