Get Free Call Of Duty: Black Ops 4 Stuff For Your PlayStation 4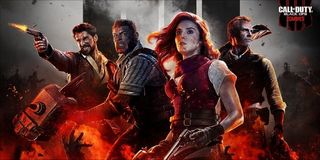 (Image credit: Activision)
With Call of Duty: Black Ops 4 releasing it's scheduled to be one of the biggest, if not the biggest, game of the year, possibly second only to Rockstar Games' Red Dead Redemption 2. To celebrate the game's impending launch you'll be able to get your hands on some free goodies and gear from Black Ops 4 for your PlayStation 4.
Over on the PlayStation Store, you'll note that you can acquire free PlayStation themes and avatars based on Treyarch's Black Ops 4.
PlayStation 4 owners can grab five new avatars based around character specialists from Black Ops 4. The avatars are themed around the characters from Treyarch's previous Black Ops titles.
Additionally, you can get your hands on a free PlayStation 4 theme as well. It's a dynamic theme with transitional backgrounds and some cool effects based on the specialists featured in the avatars.
There are also free wallpapers you can grab right now from the PlayStation Store, featuring the new cast of survivors from Black Ops 4's Zombies mode. The wallpaper is available both for desktops and for mobile devices.
The wallpaper is pretty snazzy, featuring the four characters in dynamic poses standing in front of a horde of zombies who loom menacingly in the background with arms outstretched while embers of fire rise from the bottom of the picture. If you're a fan of the Zombies mode or you enjoy Black Ops 4 that much, you'll probably want to grab the free wallpaper while it's available.
If you're not into the whole Zombies thing, there's another wallpaper available for those of you who can't wait to get into the Blackout mode, which is Treyarch's take on the highly popular Battle Royale genre that has become part of the mainstream conscious thanks to games like Fortnite and PlayerUnknown's Battlegrounds. It sports some ATV action across a hillside overlooking the expansive map below while a soldier manning a turret gun in a helicopter shoots at the other players from a distance. The mobile version of the wallpaper is a little more condensed and focuses more on the helicopter as opposed to the desktop version, but it's still high-action and high-impact.
If you want to grab the wallpapers just click on them and download them to your drive. If you have a portable media device you can load them on there and then import them as your background wallpaper on your PS4.
For the avatars and dynamic theme, you can simply click on "Claim Reward" from the PlayStation Store page for Black Ops 4. You must be logged into your PlayStation Network account if you want to claim the rewards.
For fans who have been really wanting to indulge in all things Call of Duty this year as the game takes a drastic departure away from the single-player experience and offers only multiplayer modes, you can do so right now by diving all-in on the free goodies for the PlayStation 4 ahead of the release of Black Ops 4.
Your Daily Blend of Entertainment News
Staff Writer at CinemaBlend.