Pokemon Go Has Revealed More About The Mysterious Meltan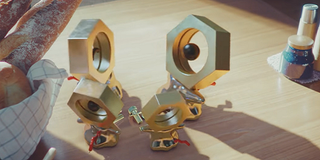 Nintendo is gearing up for the launch of Pokemon Let's Go Eevee and Pikachu with a live-action video, "New Discovery," dedicated to the series' latest and most mysterious creature, Meltan. They're really rolling out the red carpet for this metallic critter, making us wonder what kind of role it will play in the upcoming game.
You've got to hand it to Nintendo, it really knows how to promote their games. When the newest Pokemon game launches for the Nintendo Switch next month, it'll be a retelling of the original Pokemon games from the OG Game Boy. The big difference here is that the game will sport modern graphics and functionality, as well as catching mechanics ripped straight out of the mobile sensation, Pokemon Go. But rather than focus too hard on the technology or even the snazzy new Pokeball controller, Nintendo has chosen instead to keep the heart of the game front and center with its latest promotions, the sense of discovery.
A few weeks back, a brand-new Pokemon popped up in Pokemon Go called Meltan. That was used as the first teaser for the new species, which we now know will be making a proper debut in the Let's Go games coming to Switch. While much of those games will use the originals as a template, the reveal of a brand new Pokemon shows that series fans can expect at least a few surprises along the way, too.
The video hints at Meltan's abilities and behaviors, showing them as curious critters with liquid metal bodies who are attracted to other metallic objects. The short, but adorable clip ends with a group of Meltan huddled together, with the camera cutting away and returning to reveal the shadow of a much larger creature.
Fans have already begun speculating what all of this means, but the two leading theories are that Meltan will either evolve into more powerful forms, or perhaps it will become the series' new Legendary creature. I'd actually put my money on the latter but, given the way Nintendo is teasing the creature, I'm hopeful Meltan will become sort of an extra "activity" in the Let's Go games. Since it looks like it requires quite a few Meltan for it to evolve, what if players needed to collect, say, 25 of them in order to have them evolve; melting into a single, more powerful creature? That process could even repeat, with two evolved Meltan necessary to evolve even one level higher.
That's all just speculation, of course, but I'd argue a lot of what Nintendo has shown here is leaning in that direction. And since I'm clearly in a betting mood, I'll even go so far as to put my money on "Meltitan" being the name of the beefed-up version.
But again, that's what's so fun and effective about Nintendo's marketing. They've created a sense of curiosity, which is exactly what Pokemon has always been about.
Staff Writer for CinemaBlend.
Your Daily Blend of Entertainment News
Thank you for signing up to CinemaBlend. You will receive a verification email shortly.
There was a problem. Please refresh the page and try again.