Sean Bean Is Going To Die Again In Hitman 2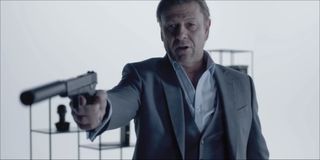 (Image credit: Warner Bros)
There's one actor who has picked up a lot of notoriety for having elaborate deaths in movies and television shows... Sean Bean. While, yes, there are other actors who have died in more films than Bean (such as John Hurt), he is specifically known for rarely making it to the end credit scenes in a film. Well, he's about to add video games to his ever-going repertoire of on-screen deaths now that he's joined the cast of IO Interactive's Hitman 2.
Warner Bros. Interactive Entertainment and IO Interactive announced that international superstar Sean Bean has joined the cast of characters in Hitman 2 in the role of Mark Faba, an Elusive Target. Who is Faba? He's actually a rather interesting character, as a former MI5 agent who left the organization to take up the role of a freelance assassin, and managed to capture the rather intimidating nickname of "The Undying."
Faba becomes renown within the world of assassination as a master of faking his death and taking out his targets with precision. So, who better to assassinate an assassin than one of the best assassins in the world?
Players will don the role of Agent 47, who must track down and eliminate the very elusive Mark Faba, and attempt to put an end to his assassination gimmicks once and for all.
The announcement was accompanied by a live-action trailer featuring Sean Bean as Mark Faba speaking with his therapist.
The live-action trailer is really cool, as it features Sean Bean talking about the different items he could use within the therapist's office for the purpose of an assassination. He ends up shooting the therapist with a silenced pistol and speaks into a camera within the room, saying that they still haven't sent their best. It turns out that the therapist was a lure setup by Agent 47, and Faba beckons 47 to meet him in Miami. What's also neat is that all of the weapons used in the trailer can be used in the game, which are outlined over on the Elusive Target website.
We now know that you'll be able to hunt down Mark Faba in Hitman 2 within the Miami stage. However, you'll only have 10 days to take him down and only one chance to make the hit.
If Hollywood were really interested in turning the Hitman franchise into a mega-blockbuster, this would have been the story to pluck for a movie. Having a formidable Agent 47 hunting down Sean Bean's Mark Faba in an international cat and mouse game -- with the ICA attempting to cover up the assassinations in order to save face for MI5 -- would make for a great espionage spy-thriller, almost something akin to The Day of the Jackal or the Jason Bourne films.
You'll be able to dive into the decadence of death with Agent 47 and Sean Bean as Mark Faba come November 20th for the Xbox One, PS4 and PC, when Hitman 2 launches.
Your Daily Blend of Entertainment News
Staff Writer at CinemaBlend.