November's Games With Gold Include Battlefield 1, Assassin's Creed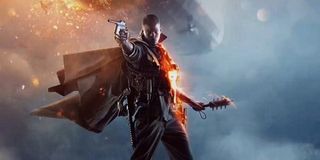 November is shaping up to be a big month for Xbox Games with Gold subscribers, especially if you like action games like Assassin's Creed and Battlefield 1. You'll be able to download a couple new games through the service starting tomorrow, Nov. 1, so be sure to free up some hard drive space before then.
With Battlefield V set to launch on Nov. 20, now is the perfect time to play last year's series entry and maybe get in some multiplayer practice in the coming weeks. Battlefield 1 is the heavy hitter for November's Games with Gold lineup, joined on the Xbox One by Race the Sun and Xbox 360 titles Assassin's Creed and Dante's Inferno.
For the uninitiated, Games with Gold is one of the perks for an Xbox Live Gold subscription. Along with online play, exclusive discounts and the like. It includes a rotating roster of video games subscribers can download each month at no extra cost. The subscription runs about 10 bucks a month, or $60 annually.
The first two games included through the service this November are Battlefield 1 and the original Assassin's Creed. The former will be available through the entirety of November, while the latter can only be downloaded from Nov. 1-15. The Xbox One version of Race the Sun can be yours from Nov. 16 through Dec. 15, with the Xbox 360's Dante's Inferno up for grabs from Nov. 16-30. As a reminder, any Xbox 360 games offered through Games with Gold are backwards compatible, meaning you can download and play all four of November's offerings if you have an Xbox One.
Battlefield 1 hit the scene back in 2016 and won critics over with its impressive campaign and explosive multiplayer modes. With Battlefield V taking the fight to World War II later in the month, this is a perfectly timed offering for Microsoft's subscription service. Race the Sun, on the other hand, is an endless flyer that tasks the player with darting between obstacles and managing their speed in an effort to earn the most points on a quest to catch the setting sun.
Since Assassin's Creed Odyssey launched just a couple of weeks back, having the series' original outing included in the November lineup is another example of perfect timing. If you need a refresher course on just how far Assassin's Creed has come in the past decade, feel free to dive in and get to stabbing corruption in the face. As for Dante's Inferno, it's a somewhat overlooked action game that draws a lot of inspiration from games like God of War. If you're in the mood to bash a hell of a lot of baddies while traversing the various levels of hell, then be sure to grab it once Nov. 16 rolls around.
Staff Writer for CinemaBlend.
Your Daily Blend of Entertainment News
Thank you for signing up to CinemaBlend. You will receive a verification email shortly.
There was a problem. Please refresh the page and try again.