You Can Now Raise A Glass To Ezio With Assassin's Creed Wine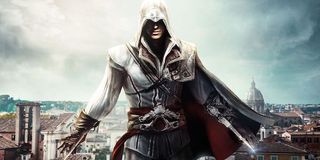 We talk a lot about Assassin's Creed around these parts, whether it's about a brand new game in the franchise or if there's a brand new movie in the works, Ubisoft's property seems to be ubiquitous within the entertainment medium. But the brand is now expanding outside of the entertainment medium and into the world of... wine?
Ubisoft has teamed up with Lot18 to offer a limited time line of wine based on Assassin's Creed, which was announced by Lot18's official website [via GameInformer]. The winemaker will create a line of wines with bottles based on various protagonists from within the franchise, including: Aveline, Arno, Altaïr, Bayek, Connor, and Ezio.
Each of the characters will appear on the bottle as featured in the image above, which is themed around the the covers for the various Assassin's Creed games, or with the characters in action poses. Some characters like Arno and Ezio are posing dynamically with their fists punching outward, while Aveline, Altair and Bayek are standing confidently on their covers-- with Connor ready to fire off an arrow.
Game Informer has a list of the wins that Lot18 is scheduled to produce:
Each of those bottles are available for $20 each as a separate bottle. Alternatively, you can purchase a half case featuring the wine bottles at $12 off the half case, where you can get it for $108 instead of $120. If you want the full case, you can get it for $48 off for $192 instead of $240-- which means that for the 12 bottles you pay $16 per bottle instead of $20.
Supplies are apparently limited for the wine sets, so if you wanted to get them just to collect them you'll have to work fast before they're all gone. Alternatively, if you were curious what an Assassin's Creed-themed wine set would taste like, you'll still have to work fast because I'm pretty sure a ton of fans of the series would love to have the wine set as a collector's item sitting on a shelf along with their other collectible figurines and paraphernalia.
This isn't Lot18's first rodeo when it comes to offering branded wine based on a popular entertainment property. In fact, the company offers wines based on a variety of popular shows such as The Bachelor and MasterChef, as well as more less conventional properties for wine, like Outlander and The Lord of the Rings. I don't know how well people would really want to drink wine based on The Walking Dead... it seems kind of morbid, but it's an option!
I'm curious if the Assassin's Creed wine does well will we see other video game properties make an appearance? Perhaps there will be a set based on The Council? I could easily see a set based on The Witcher. But how crazy would it be having different flavored wine based on Sonic The Hedgehog or Super Mario Bros.? Only time will tell.
Staff Writer at CinemaBlend.
Your Daily Blend of Entertainment News
Thank you for signing up to CinemaBlend. You will receive a verification email shortly.
There was a problem. Please refresh the page and try again.