Outlander Season 4: What We Know So Far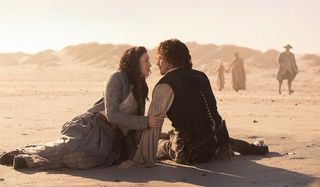 The first three seasons of Outlander on Starz were a wild ride involving time travel, romance, sex scenes, heartbreak, war, heartbreak, Scottish history, and more heartbreak. Unfortunately for fans, the hiatus between Seasons 2 and 3 was so long that it became known as the "Droughtlander." More than a year passed between the Season 2 finale and the Season 3 premiere, and not a whole lot was known for a long time. Luckily, we probably won't have such a significant wait this time around, and some information about what's to come has already been released. Read on for a breakdown of what we know so far about Outlander Season 4 to tide you over while we wait!
When Will Season 4 Premiere?
No premiere date has been announced at this point, but we can expect Outlander Season 4 to hit the airwaves sometime before the end of the year. A release date of 2018 was shared way back when the Season 3 finale aired, and we have no reason to believe that it's changed. In fact, it's safe to say that the odds are in favor of a fall release for Season 4. Outlander showrunner Ronald D. Moore revealed to EW back in 2017 that the plan was to release new seasons of the show in the fall each year. Season 3 hit the airwaves in September 2017; perhaps Season 4 will debut in September 2018. A September release would mean a reasonable hiatus rather than Droughtlander 2.0.
What Have We Seen So Far?
Starz was kind enough to follow the Season 3 finale up immediately with a first look at Season 4. The quick video revealed Claire and Jamie sitting together, pondering their future in a whole new world filled with new opportunities. Claire was able to use her knowledge of history to fill Jamie in on some of the particulars of their era, and both seemed surprisingly optimistic, given that they were seemingly hanging out on the ground in a forest.
You won't be able to find the scene online, but you can check out the post-Season 3 finale sneak peek below:
The scene from Season 4 released back in January on Starz after an Outlander marathon. Although it was not made available online, it did paint a picture of the kind of trouble Jamie and Claire will get themselves into in the fourth season. Unsurprisingly, they're in a sticky situation involving a dark road, British officers, and a dead body. Will they never catch a break?
How Many Episodes Are We Getting?
No announcement regarding the number of episodes that will air in Season 4 has been made at this point. That said, we can make an educated guess about how many episodes we'll get in the new season. Both Seasons 2 and 3 ran for 13 episodes on Starz; the odds are quite good that Season 4 will also run for 13 episodes. Given Ronald Moore's apparent desire to release new seasons in the fall of each year, it would make sense for the seasons to run for about the same number of episodes.
How Many Seasons Are Left?
There's no reason to believe that Season 4 will be the final season of Outlander. Although the show has not yet been renewed for Season 5, the folks behind the scenes haven't been shy about hinting at a very likely renewal. There's also the point that each season of Outlander so far has chronicled the events of one of the books in Diana Gabaldon's novel saga that inspired the series. Eight books have been published so far, with a ninth in the works and plans to wrap things up in the tenth. If Starz continues to be happy with Outlander's performance, the show could very well continue for quite a while. Only time will tell.
What New Characters Will Appear?
Outlander was actually filming some of Season 4 at the same time as Season 3, so many castings were undoubtedly made a while ago. We did learn last fall that Jocasta Cameron will be making the jump from the page to the screen for the adaptation of the fourth novel in the saga. Maria Doyle Kennedy will play Jocasta, who is Jamie's strong-willed aunt with the means to help out our heroes when they turn up on her doorstep.
Another new character to appear will be none other than Irish pirate and smuggler Stephen Bonnet, played by Ed Speelers of Downton Abbey fame. Fans of the books know that Bonnet plays a key role in the early events of the fourth novel. He'll probably play a similar role in the TV adaptation.
Yet another new character will debut in the new season, although this one in particular will be of the canine variety. A dog by the name of Rollo joins Claire and Co. on their journey in the fourth book, and Rollo in the show will be played by a pair of pups, as announced on the show's official Instagram page. Take a look:
Where We Left Off
The Season 3 finale ended with Jamie and Claire shipwrecked and stranded, although fortunately in a more hospitable environment than Claire's previous adventure on the journey. They washed up on the shores of Georgia, which is still a British colony in Claire and Jamie's place in the Outlander timeline. The Artemis is gone, meaning that everybody who washed up alive will likely be staying in the Colonies for a while. The good news is that the death of Geillis Duncan at the end of Season 3 likely means the end of the Jacobite cause, even for time travelers. Jamie and Claire should be able to focus on matters other than a madwoman trying to change history by killing Young Ian or Brianna or some other innocent person. Jenny and Ian are still back at Lallybroch in Scotland. My fingers are crossed that Murtagh -- who survived the Battle of Culloden in the show unlike his book counterpart -- will turn up in time to join Jamie and Claire at some point in Season 4. Stranger things have happened in Outlander. Remember Claire's sewing montage set to the Batman '66 theme song?
Where We Left Off: Claire
Claire was fresh off her latest near-death experience when she washed up on the shore of Georgia in the Season 3 finale. She had nearly drowned after falling off the Artemis in a storm and was only saved because Jamie jumped after her. Of course, that simply meant that both of them were likely to die in a storm on the ocean, but luck was on their side. The storm had blown them all the way to Georgia. Their arrival in the Colonies means that Claire will likely have an edge on Jamie with regard to local custom and landscape. She did spend half her life living in the United States, and her knowledge of U.S. history could help with decision-making in the new world. The Revolutionary War is in the not-too-distant future by the time Claire and Jamie wash up.
Where We Left Off: Jamie
Jamie had a few near-death experiences of his own in Season 3, and most were connected to the British. After barely surviving Culloden, he spent years in prison under terrible conditions, although he did make a valuable friend while locked up. He left, stayed at an estate as a servant, fathered an illegitimate child, then had to flee when the child started to resemble the stable servant a little too closely. His print shop burned to the ground, and he had to take off on a voyage after Young Ian was kidnapped by pirates. Because Jamie has some of the worst luck in the entire Outlander series, he ran afoul of the British yet again while trying to find Young Ian. The Brits back in Scotland happened to find a corpse hidden in one of the barrels of alcohol he'd been selling, and there was a warrant out for him. He managed to escape custody thanks to the intervention of John Grey, but he'll probably want to avoid too much contact with the English in the Colonies.
Where We Left Off: Young Ian
The Season 3 finale technically didn't reveal much of Young Ian's fate, but we can be sure that he didn't perish at sea. After spending most of the season kidnapped, he was sold to Geillis Duncan, who intended to use him as a sacrifice as part of her bonkers plan to change the past and install a Scot on the British throne. Jamie and Claire managed to save him, and we can bet that he didn't die off-screen in the storm. Chances are that he'll want to stay with his uncle rather than return to his mother in Scotland. Young Ian's prospects weren't all that golden back at Lallybroch, and he obviously loves his uncle. He may push to stick with Jamie and Co. in the new world.
Where We Left Off: Brianna And Roger
Brianna and Roger got pretty cozy with each other after sending Claire into the past to reunite with Jamie. Oddly enough, Brianna was in serious danger at the end of Season 3 due to events going down a couple of centuries in the past. Geillis interpreted a prophecy to mean that a child who was born 200 years after being conceived had to die in order for a Scottish king to take the throne, and Brianna is the only person who fits that description. Claire and Jamie managed to stop Geillis before she got very far in her mad quest to do whatever necessary to take out Brianna, meaning that the young woman is at least safe from assassins from the past. Outlander executive producer Maril Davis has confirmed that both Brianna and Roger will be back in Season 4, so we'll presumably continue to see scenes set in both the 20th century with those two along with the 18th century action with Claire and Jamie.
Where We Left Off: Fergus And Marsali
All things considered, Fergus and Marsali did pretty well for themselves in Season 3. Sure, Fergus had a hand chopped off and Marsali had to deal with some unexpected complications when Jamie's first wife turned up out of nowhere, but they loved each other very much and were ultimately able to convince Jamie that they deserved to be married. The two tied the knot before the end of Season 3, and we can be positive that they didn't die off-screen. Fergus is undoubtedly more loyal to Jamie than ever after being given the Fraser surname, so he probably won't abandon Jamie for anything. It should be interesting to see how Marsali fits into the situation.
How To Find Out More
Well, you can stay tuned to CinemaBlend for the latest in Outlander news to find out more. Still, there is another big way to get a further idea of what's to come. Season 4 will be based on the fourth book in the Outlander saga, called Drums of Autumn. There's no saying at this point just how faithful Season 4 will be to the events of the book, but Season 3 did manage to stick pretty closely to the major twists of the corresponding source material. Reading Drums of Autumn could at least clue you in to some of what will happen, even if there are significant departures. After all, the inclusions of Jocasta, Stephen Bonnet, and Rollo are proof that notable book characters are making it into Season 4, and the scene released in January was practically straight out of the pages of Drums of Autumn.
Be sure to check back with CinemaBlend for news of Outlander. If you're in the market for other shows to watch while we wait for Season 4 to debut later this year, check out our midseason TV premiere guide. If streaming is more your style, we have a handy 2018 Netflix premiere guide and a 2018 Amazon Prime premiere schedule to point you in the right direction. Don't forget to stay tuned to CinemaBlend for the latest in TV and movie news.
Your Daily Blend of Entertainment News
Laura turned a lifelong love of television into a valid reason to write and think about TV on a daily basis. She's not a doctor, lawyer, or detective, but watches a lot of them in primetime. Resident of One Chicago, the galaxy far, far away, and Northeast Ohio. Will not time travel, but will sneak references to The X-Files into daily conversation.