Harry Potter: Hogwarts Mystery Dev Signs Deal To Make Mobile Games For Disney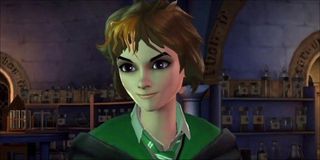 The designer of Harry Potter: Hogwarts Mystery is moving up in the world of licensed-based property game development. It's recently been announced that Jam City will adopt and create various games based on Disney properties.
Disney and Jam City have partnered over the course of several years to make a number of games based on Disney and Pixar properties. Initially, Jam City will take over development of Disney's Emoji Blitz, which will continue to operate for mobile devices since launching back in 2016. The game is currently available over on the iTunes App Store as a free-to-play emoji-collection game with a puzzle element.
The collaboration will also see Disney moving some of its resources over to Jam City. Members of the Glendale Games Studio will move to Jam City to help with the development of brand new mobile games based on properties made popular by Pixar and the Walt Disney Animation Studios. So expect announcements for popular games from the Pixar lineup, potentially including titles like Toy Story or Finding Nemo.
However, gamers won't have to guess what Jam City's very first project is going to be. It was announced in the press release that Disney's Frozen 2 will be turned into a game, and Jam City's mobile title will likely be ripe and ready for release alongside the film, which is currently scheduled to open in November 2019.
Jam City's last big release was Harry Potter: Hogwarts Mystery, which came out in mid-spring 2018 for iOS and Android devices. It's a surprisingly big game to be designed for smartphones, given that players are able to create their own character and explore Hogwarts in ways that are unlike any other game out there. Graphically, the game also has its own style that helps it stand apart from most other mobile titles on the market.
In a way, you could consider Harry Potter: Hogwarts Mystery as the AAA of mobile gaming, and the title isn't too far removed from the visual quality of games found on the Nintendo Switch.
Further to the point, if what we've seen from Hogwarts Mystery is any indication of the bar that Jam City may set for tackling Disney games, then you can actually hold out hope that the upcoming game based on the Frozen sequel will be designed on par to the quality of Jam City's Harry Potter outing.
Then again, the company could go in the complete opposite direction, focusing on smaller games with match-3 style gameplay to accommodate the casual audience within the mobile market. Most mobile phone users aren't big gamers and aren't readily wowed with big-time special effects, complex control schemes found in games like Infinity Blade, or blockbuster-style visuals from Call of Duty or Battlefield. I mean, just look at Flappy Bird or Candy Crush and you can see that graphics aren't everything when it comes to popular mobile titles.
Expect more news to surface regarding Jam City's Disney games further into 2019 as Disney begins to unveil newer products and its future line-up of movies and television shows.
Staff Writer at CinemaBlend.
Your Daily Blend of Entertainment News
Thank you for signing up to CinemaBlend. You will receive a verification email shortly.
There was a problem. Please refresh the page and try again.