The Rocksteady Studios Superman Rumor Is Back Once Again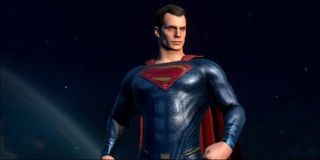 (Image credit: Warner Bros. Interactive Entertainment)
One persistent rumor that just won't die is that Rocksteady Studios, the makers of the highly lauded and huge-selling Batman: Arkham series, will be (or are currently) working on a game based on DC's Superman. Well, the rumor has been building steady traction in recent times and is now back again in full force.
IGN is reporting that users from a forum spotted a listing over on the gaming website Game System Requirements. As of the writing of this article, the listing is still available over on the website, and it lists a game called Superman: World's Finest in its database for a release on PC. The entry has no details on the system specifications or when it will release, but it does reveal the developer, which is listed as Rocksteady Studios.
Now, obviously, the first thing most people did was test for trolling. When it comes to news like this a lot of people want to be sure that some random troll from the far side of the world didn't log into the database and the game just to get a rise out of people. According to IGN, however, adding games to the Game System Requirements database is no hop, skip and jump, and adding titles to the website that are not confirmed, approved, or announced, is no easy task. In fact, gamers tested this by searching up games such as Grand Theft Auto VI, which has not been announced but has plenty of rumors about its announcement. Sure enough, there are no entries for GTA VI or GTA 6 or any variant of the title. There are entries for GTA V, however.
Tests were also run for Half-Life 3, and while the search results pull up matches for Half-Life, none of them are for Half-Life 3. The same applies for Bloodborne 2, which is another game that was tested against the system.
So, it appears that not just anyone can make up a game and add it to the database, lending some credence to the rumor that Rocksteady could indeed be working on the game.
The IGN article also notes that there have been a string of occurrences pointing to a potential Superman game from Rocksteady, including a deleted thread that indicated that the upcoming game would feature Superman, Batman, and Robin in some capacity. The site also points to a recent listing for jobs from Rocksteady for a AAA title designed to release on next-gen platforms, which would presumably mean the PlayStation 5 and whatever the new Xbox is going to be.
The rumors of Rocksteady working on a Superman game has dated back to when the company had just finished up on Batman: Arkham Knight back in 2015. A three year development cycle for a game like Superman: World's Finest would certainly make sense, but is that really what's in development?
Some people are speculating that it could be one of the big 10 new games that will be unveiled during this year's The Game Awards, which are set to air on December 6th.
Staff Writer at CinemaBlend.
Your Daily Blend of Entertainment News
Thank you for signing up to CinemaBlend. You will receive a verification email shortly.
There was a problem. Please refresh the page and try again.