Fortnite Delays Account Merge Option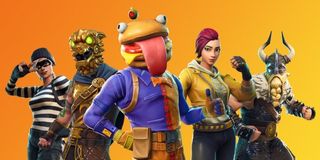 (Image credit: Epic Games)
One of the features that a lot of gamers were looking forward to with Fortnite was being able to merge their accounts and play across any platform without worrying about being blocked from having access to their character achievements and progress. However, this highly anticipated feature is now being delayed.
Over on the Epic Games website, there's a brief post about how the account linking feature will be delayed ... for now. The feature will be delayed all the way into 2019 at some unspecified time. Epic announced that it wanted to make sure that it was working properly and was duly tested before rolling it out for gamers -- especially for those looking to transfer purchases from one account to another.
There were some technical hurdles that the team ran into while trying to get the feature to work across the PC, PS4, Xbox One, the Nintendo Switch, and mobile devices. Epic obviously doesn't go into detail on which platform was giving them a problem, or what sort of technical hurdles it's facing, but obviously the issue is pressing enough that it will require several more months of development before being made available to the general public.
The original plan was that players who had multiple accounts across different platforms would be able to merge them together into one unified account. This meant that if you purchased some goods across the PlayStation 4 version of Fortnite, but you had a bunch of really cool costumes on the Nintendo Switch version of the game, but you scored yourself a pretty nifty hat on the Xbox One version, you would be able to merge the accounts together. You wouldn't have all of these different accounts with different stats and features on them.
This was mostly made in response to the fact that cross-play is a thing in Fortnite, and for a lot of people playing the Battle Royale mode, they like being able to keep a single account across multiple systems while playing cross-platform matches with friends or families. It makes it easier to keep track of what you spend and what you earn.
Epic ran into some issues previously with the account merging when Sony blocked the ability for cross-platform compatibility. This was initially due to what Sony called security issues, something that Microsoft took issue with, but the company later opted out of providing reasons why PS4 gamers couldn't play with Nintendo Switch owners. Worse yet is that PS4 accounts would get locked attempting to transfer them over and play from the Nintendo Switch when Fortnite first launched for the system.
After a lot of pushback from the community, Sony finally acquiesced and allowed Epic to enable cross-platform compatibility, as well as gave the go ahead to enable account merging.
Since then, Epic has been working hard to allow gamers to merge their accounts from multiple platforms into a single cohesive account. Originally this feature was supposed to go live in November, and Epic even took time out to walk gamers through the process of how to link a primary and secondary account together. However, it appears those plans are put on the shelf for now as the feature is delayed into 2019.
Your Daily Blend of Entertainment News
Staff Writer at CinemaBlend.