What's Really Selling On The Nintendo Switch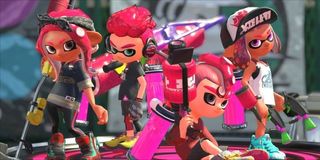 (Image credit: Nintendo)
When it comes to sales data and sales tracking, we don't always get to know exactly what's doing well on which consoles. However, thanks to some recent reports, we have an idea of what's really selling on the Nintendo Switch. New figures reveal how much software is being moved on Nintendo's experimental hybrid hardware for both couch-going and portable gamers alike.
Gamespot compiled a list of some of the top-selling games on the platform, as outlined in a Japanese financial report covering the global sales data for the Switch until September 30th, 2018.
The list includes almost every top game you would expect to be on the list for the Nintendo Switch -- including Super Mario Odyssey, which topped the list with 12.17 million in sales. That's an amazing figure, especially given that the Switch has sold close to 23 million units since launching in early 2017. That's a strong figure for Nintendo and it seems to keep moving up.
That also means that Super Mario Odyssey represents nearly a 58% attachment rate between Nintendo Switch owners and the game. That's an unbelievable feat to accomplish for a game. That's even more than Uncharted 4, which has sold 8.7 million units on the PS4 -- a small fraction of how many total PS4 units Sony has sold so far.
The next best-seller on the Switch isn't far behind Super Mario Odyssey; it's also an unsurprising title: Mario Kart 8 Deluxe. The game has moved 11.71 million units on the Switch, which puts it right up there as a game with an amazingly high attachment rate. It's not surprising, given how much content is packed into the game, and how well it sold on the Wii U, despite the console's failings.
Third on the list is The Legend of Zelda: Breath of the Wild, which clocked in at 10.28 million units being sold since launching with the Switch last year in March. The game has been a huge talk of the town for the system, and was a launch title to help really get the momentum rolling. Mario still came out on top, but The Legend of Zelda is still a powerhouse franchise for Nintendo, as shown in the sales numbers.
Fourth on the list is Splatoon 2, which managed to move 7.47 million units since launching in the summer of 2017 for the Switch. That puts the multiplayer team-based competitive shooter nearly on par with Horizon: Zero Dawn, which also released in early 2017. The two games seem to be tracking on par with each other, despite one being a single-player adventure on the PS4 and the other being a multiplayer-shooter on the Switch.
It's interesting to note that single-player and multiplayer games can both be equally popular on various platforms. But the top-selling game on the Switch is a single-player game (with some minor co-op capabilities), and the top selling exclusives on the PS4 are also single-player oriented titles.
There's a pretty big gap between Splatoon 2 and everything between fifth place and 10th place. 1-2 Switch rounds out the fifth spot at 2.64 million units, with a 4.83 million unit gap between the two, which is rather significant. The party game is followed by Mario Tennis Aces at 2.16 million, an action-sports game that came out in the summer of this year.
ARMS is next at 2.10 million, tying with Kirby Star Allies. There's Donkey Kong: Tropical Freeze in ninth at 1.67 million units sold, and Xenoblade Chronicles 2 to round out the top 10 with 1.53 million units sold.
Your Daily Blend of Entertainment News
Staff Writer at CinemaBlend.