Suspended NFL Player Has Been Removed From Madden NFL 19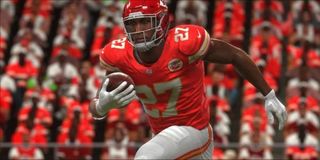 (Image credit: EA Sports)
If there's one thing that any major sports star, actor, or celebrity should learn, it's that if you catch the ire of the public, expect to pay for it. You could be shunned, suspended, or in the case of Madden NFL 19, completely removed from the game.
Deadline is reporting that former Kansas City Chiefs player Kareem Hunt is feeling the burn of being ousted not just by the National Football League and his former team, but from Madden NFL 19. He'll have to explain to every player who wanted to play as him that he's no longer playable in the EA Sports title.
The humiliation of being removed from the game didn't just come with being left a blank spot where his name and position would have been. EA took the extra step to also fill in his place with a generic player who has the exact same stats, ratings, and attributes.
Ouch.
Brad Hilderbrand explained that before you even have a chance to protest the decision, it's already been made. In a statement to the press Hilderbrand stated...
For those of you who don't know, the Ultimate Team feature is themed around opening up loot packs filled with player cards. As gamers collect different players they can then extend their roster and expand on their overall team's rating. If you purchased a pack that had Kareem Hunt in there, he will no longer be available on your team or in the pack in Madden NFL 19. The new generic player will be there instead.
So what happened that caused EA to go through the extra steps to remove a suspended player from the roster of a virtual video game game? Well, video footage emerged allegedly showing Kareem Hunt physically abusing his girlfriend in a hotel. Hunt managed to run afoul of the NFL Commissioner via partaking in other unconscionable actions, Deadline noted, and that led him to a long suspension from the NFL. Eventually, it also resulted in the Kansas City Chiefs cutting him from the team.
By proxy, Electronic Arts apparently didn't even want Kareem Hunt in the game, or to deal with such issues, and so the company completely cut him out of the game.
Deadline notes that there was only one other player who was forcibly removed from a Madden NFL game -- Ray Rice. He befell a similar fate as Hunt after physically abusing and knocking out his fiancée at a hotel.
There was also some slight controversy with Colin Kapernick being muted out of a recent Madden game, but it was later alleviated after a few people reached out to EA to get the problem fixed. However, in the case of Kareem Hunt, I tend to get the feeling that Hunt won't be making a return to a Madden game anytime soon.
Staff Writer at CinemaBlend.
Your Daily Blend of Entertainment News
Thank you for signing up to CinemaBlend. You will receive a verification email shortly.
There was a problem. Please refresh the page and try again.