You Can Earn Microsoft Reward Points By Using Xbox Game Pass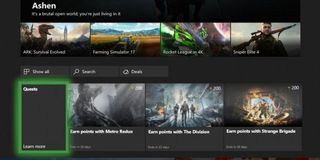 (Image credit: Microsoft)
Microsoft is really trying some new tactics to lure people into using the Xbox Game Pass, such as giving gamers rewards for using the Xbox Game Pass subscription service. This means that not only do you get rewards for playing games, but it means you can use those rewards to play even more games.
Over on the Xbox Wire, the news rolled out that as part of the 2019 kick-off gamers will be able to rack up Microsoft points that can be used to spend toward membership fees or even downloadable content for various games.
How it works is that you need an Xbox Game Pass subscription. Once it's activated you'll need to head to the Xbox Game Pass membership area and check the quest section. As you complete quests you will earn Microsoft Rewards. It's essentially the gamification of earning and spending real money. But, it's not predatory or invasive like roulette-style loot boxes, similar to the ones that were supposed to be featured in Star Wars: Battlefront II.
Basically, once you start a quest you'll be able to track the progress and earn points by playing any game that's currently available through the Xbox Game Pass.
However, there is a catch.
Not all quests will be there forever. Some quests are timed, and as mentioned in the Xbox news piece, you'll need to complete some quests before February 3rd if you want to earn up to 2100 points.
They list a couple of the quests on the page, which includes playing 4A Games' Metro Redux, including Metro 2033 or Metro: Last Light, and completing four specific achievements to earn 200 points.
There's an Adventurer quest where you can earn 200 points for unlocking two specific achievements within Strange Brigade. And there's an Achievement Hunter quest where you need to unlock 21 total achievements across any available games on the Xbox Game Pass for 600 points.
Basically, it's the gamification of playing video games. That's a rather meta, Inception-style rewards program if I've ever seen one, but I doubt gamers earning points for playing games to buy more games will care all that much about the structure of the program and more-so just focus on earning those rewards.
What's more is that Microsoft is attempting to lure gamers into different genres through the Game Pass. Yes, one specific quest allows you to earn points for playing a new game, or earn points for playing three different games from three different genres. So, you'll be compelled to check out something like Life Is Strange or Super Lucky's Tale 2 in addition to playing dudebro shooters like Gears of War or Halo.
The final quest of the month is more like a platinum rewards quest because you'll earn 500 points for completing all of the current month's quests.
If this catches on I can definitely see Sony implementing something similar for services like PlayStation Now or the PlayStation Plus subscription service. The structure of the trophy setup is already using that model for PlayStation games, so it would just be a matter of extending it to an external rewards program... oh wait, Sony already had that, it was called the Trophy Pass for the PlayStation Rewards and it just recently ended.
Anyway, Microsoft is giving it a go this time and Xbox gamers will be able to earn quest rewards and additional goodies just by playing games through the Xbox Game Pass subscription.
Your Daily Blend of Entertainment News
Staff Writer at CinemaBlend.