Halo 5 Is Getting A Free Weekend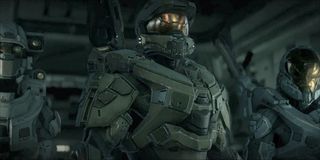 Way back in 2015, Microsoft released Halo 5 for the Xbox One. It doesn't seem like it but it was four years ago. 343 Industries is currently working on Halo: Infinite, which is a super secret project on the horizon, but while gamers have to wait for the upcoming shooter to release, Microsoft is tempting gamers to rekindle their love of the series with a free weekend for Halo 5.
Over on the official Halo Twitter account, it was announced that anyone who has an Xbox Live Gold account will be able to dive into Halo 5 over the weekend.... for free.
This is the sort of move we oftentimes see with a variety of Steam games; usually forgotten titles or AAA games that have fallen out of the spotlight. Alternatively, the free weekends are used for AA-tier games that are usually considered good but overlooked, like Vermintide or the DiRT series.
The free weekend for Halo 5 is available now and you will be able to play through the whole game and dive into the multiplayer up through Sunday. This is part of the Xbox Free Play Days, which I imagine will be a regular occurrence from here on as Microsoft attempts to lure gamers back into the Xbox fold.
It's funny, but the very first comment in the thread is someone asking for the release of Halo Reach on the Xbox One X with 4K support. So people aren't entirely focused on a free weekend so much as they are more software filling out the Xbox One's rather thin library, especially in comparison to the PlayStation 4.
It's no secret that Sony is absolutely stomping Microsoft when it comes to sales across both software and hardware. In fact, in the hardware department, Microsoft isn't even close, as Sony is getting close to reaching 100 million in PS4 sales, while Microsoft hasn't even hit a third of that.
Still, the company has been attempting to flesh out its software library with more content and evolve its current line-up of exclusives. Last year the head of the Xbox brand, Phil Spencer, took to the stage at E3 to announce a number of exclusives being in the works for the Xbox after acquiring several mid-tier and high-end game studios.
However, we won't see the fruition of those acquisitions come about until another three or four years. In the meantime, Microsoft has to find ways to get people playing on the Xbox One and subscribing to Xbox Live. Hosting free weekends for first-party, high-end games like Halo 5 isn't a bad way to about getting people interested in the brand again, even though Halo 5 is one of the more divisive entries in the long-running first-person shooter series given the way certain characters are underutilized and other characters aren't properly explored throughout the story.
Nevertheless, if you already have an Xbox Live Gold account and you haven't given the game a try yet, you can do so this weekend, right now, for free.
Your Daily Blend of Entertainment News
Staff Writer at CinemaBlend.