Deleted Court Of Owls Art May Support The Latest Batman Game Rumor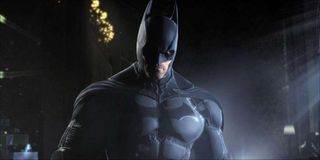 (Image credit: Warner Bros.)
Rumors keep swirling around a potential new Batman game in the current dark and gritty Batman world that Warner Bros. and Rocksteady established back in 2009 with Batman: Arkham Aslyum. The rumors popped up again after some new artwork made its way online, which has given gamers the idea that it may be tied to the new game.
So, there's a lot to preface here before you immediately jump to any conclusions. The way the story goes is that artist Eddie Mendoza, who works for Apple, also does freelance work. Mendoza apparently made three key frame art pieces themed around Batman taking on the Court of Owls. This doesn't seem like much, right? Just some fan art from an artist posted on ArtStation... right?
Well, according to a Reddit post in the PS4 sub-reddit, shortly after Mendoza posted the three pieces of art he took them down. Even though he had originally said they were done "just for fun," their mysterious disappearance made a lot of people stop and scratch their heads. But, the real news is that, supposedly, Mendoza's freelance gig included a recent client that was none other than... Warner Bros.
The Reddit user was able to retrieve one of the pieces of artwork from a Google cache shortly after it was deleted, and it definitely lends credence to the possibility that it's attached to an upcoming game. Why? Well, when you look at the art concept the armor that Batman is wearing is very similar to his armor from Rocksteady and WB Montreal's Batman: Arkham games.
Why is this significant? Because as we reported just a month ago, WB Montreal has been staffing for two unannounced DC Universe games following on the heels of Rocksteady Studios' Batman: Arkham Knight, which came out back in 2015.
WB Montreal's Valerie Vezina also tweeted out an image of her wearing a shirt with the Court of Owls t-shirt. Why is this important? Because in Mendoza's artwork, it featured the Caped Crusader taking on the Court of Owls.
This all seems to be pointing toward something, but it's just pomp and circumstance for now. A lot of gamers are hoping that this means that Warner Bros. is working on a new Batman: Arkham game themed around the Court of Owls.
When Warner Bros. Interactive Entertainment handed off the Batman license to Rocksteady Studios, no one really knew what to expect. What the studio managed to do with it was turn the super hero LP into a mega-AAA blockbuster, just like what Insomniac Games did with Marvel's Spider-Man. Now, whenever anyone brings up a Batman game, they immediately think about Rocksteady Studios' titles, or WB Montreal's Batman: Arkham Origins.
While Mendoza's artwork may not mean anything in isolation, when you combine it with the other recent teases, it seems to point to a possible announcement coming down the pipeline soon for a brand new Batman title... hopefully. The next big question is, if the game is being made, is WB Montreal focusing on making it for the Xbox One and PS4 or is it being saved for the next-gen iterations of the home consoles?
Your Daily Blend of Entertainment News
Staff Writer at CinemaBlend.