Sounds Like A New Batman Game May Be Coming In 2019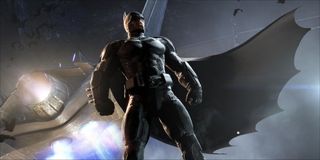 One of the biggest breadwinners for Warner Bros. Interactive Entertainment has been Rocksteady's Batman: Arkham series. The games are both critically acclaimed and commercially successful. It's no surprise that WB would attempt to go back to the well of the Dark Knight for a new game. In fact, we could see a new title arriving as soon as 2019.
The hint about a new Batman game came via Patrick Redding posting a tweet wishing gamers a happy holidays. But it wasn't just a happy holidays greeting, it was also a hint at saying that 2019 might bring gamers "everything you wish." What's the significance of this? Well, Patrick Redding is a creative director at Warner Bros. Games Montreal. That's the same studio that worked on Batman: Arkham Origins in between the release of Rocksteady Studios' Batman: Arkham City and their last outing in the franchise, Batman: Arkham Knight.
Given that it took Rocksteady a solid four years to finish up Batman: Arkham Knight, it would be a six year gap between Warner Bros. Games Montral's release of Arkham Origins and whatever new project the company is working on.
The last standalone game the company worked on was Lego Legends of Chima Online, which came out back in 2014, so it would actually be five years between the company's last standalone game release. In between that time, Warner Bros. Montreal has also been working on other Batman-related content, specifically a story add-on for Rocksteady Studios' Batman: Arkham Knight in the form of Batgirl: A Matter of Family, which covered the events following Batgirl before she was paralyzed and stricken to a wheelchair courtesy of The Joker.
So it would technically be four years between the time that Warner Bros. Montreal worked on any Batman-related content. But story add-on DLC compared to a full-fledged game are two drastically different things.
Ahead of The Game Awards there were rumors that Rocksteady was working on a new DC project, and many had hoped that it was going to be the long-awaited game based on Superman, but that turned out to not be true. The only major Warner Bros., announcement that took place at The Game Awards was Mortal Kombat 11.
According to GameRant, Warner Bros. Montreal's Geoff Ellenor, a game director, and Osama Dorias, a senior game designer, stated that work on an open-world DC Universe console title had been completed. So this ties into the rumors that Warner Bros., had been working on a game for home consoles following up on the big release of Batman: Arkham Knight from back in 2015.
There's speculation that the game might be based on the Court of Owls story. Others are hoping that it follows some other stories, but we'll have to wait until 2019 to find out what the new game is. For now gamers have to take solace in at least knowing that Warner Bros. Games Montreal is working on a new project and it sounds like it's far enough along that it's practically complete. The only thing we have to wait for now is an official announcement for the game.
Staff Writer at CinemaBlend.