Mortal Kombat 11 Debuts First Gameplay Trailer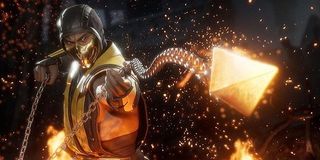 Announced only a month ago and due out in April, NetherRealm Studios' Mortal Kombat 11 is looking more violent (and gory) than ever in today's "Official Gameplay Reveal Trailer."
You might recall that NetherRealm head Ed Boon walked onto the stage at The Game Awards in December to present the trophy for the best sports/racing game. Before he could read the names of the nominees, though, a reveal trailer for his team's upcoming Mortal Kombat 11 "accidentally" played instead. It was a fun moment, highlighting a battle between Scorpion, Raiden and...another Scorpion?
Anyway, in the weeks that followed, NetherRealm announced that a major reveal event for the latest Mortal Kombat would be hosted on Jan. 17, where folks would learn all sorts of new details about the game, beginning roster, modes, story and more. As you might have noticed, that's today!
While the event is ongoing as of this writing, we've already had an opportunity to take in some of the over-the-top MK violence being presented at the event, including the gameplay reveal trailer above. It's a rather gratuitous affair not intended for the faint of heart, but that's kind of par for the course in the Mortal Kombat universe.
The trailer opens with a bunch of walk-on animations, presumably some of what players will see at the beginning of fights. Scorpion and Raiden are once again in the mix, along with Baraka and Skarlet. What follows is a hell of a lot of stabbing, punching and bone-breaking, as well as scenes of things like Baraka biting a chunk of meat off of someone's arm, Scorpion cutting a fool in half (lengthwise) with his spear's chain and Skarlet impaling Scorpion with spears made out of his own blood. There are also a few teaser scenes from the game's campaign peppered throughout that make it sound like either time travel or dimension hopping will be in the mix.
This, of course, might explain why the Game Awards trailer boasted two different Scorpions. Heck, it's a gimmick that allowed Injustice 2 to make sense and would work just as well in the Mortal Kombat universe if that is indeed the route the team is taking.
Another thing they appear to be borrowing from the most recent Injustice game is character customization, which seems like a bang-up idea. The DC fighting game included an insane number of outfits and accessories for the cast and, after all these years, it should be no problem to deck out the Mortal Kombat crew in similarly diverse gear. It looks like more weapons might also be in the mix, but we'll just have to wait until a deeper dive into the game's structure is made available to find out more.
Speaking of which, if you're interested in even more Mortal Kontent, you might want to drop by the game's official YouTube page. NetherRealm is posting everything from today's show, which will likely add up to a ton of videos to plow through once everything is said and done.
As for the game itself, look for it on Xbox One, PlayStation 4, PC and, somehow, the Switch on April 23.
Staff Writer for CinemaBlend.
Your Daily Blend of Entertainment News
Thank you for signing up to CinemaBlend. You will receive a verification email shortly.
There was a problem. Please refresh the page and try again.