Ronda Rousey Seemingly Confirms Mortal Kombat 11 Rumor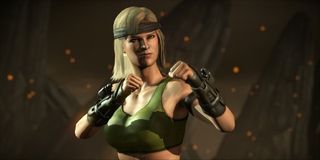 (Image credit: Netherrealm Studios)
NetherRealm Studios is currently hard at work on Mortal Kombat 11, which is set to come out for the Xbox One, PS4 and PC. The upcoming fighting game was rumored to have a brand name martial artist joining the voice cast, and, apparently, that's true because former UFC champion, Ronda Rousey, has seemingly confirmed her involvement with the game.
The news was confirmed via a tweet sent out from Ronda Rousey's official account, where she simply stated that Earthrealm was safe with her, and that she couldn't wait for Thursday, for the big reveal at 10 a.m., January 17th.
There's a link to Rousey's Instagram page where she's holding up a plaque with Mortal Kombat 11 on it that says that the big reveal for the game will take place on January 17th, 2019 in Los Angeles, California.
This all ties into a now, seemingly, confirmed rumor that Ronda Rousey would be voicing mainstay character, Sonya Blade. But, where did a rumor like that come from?
According to ScreenRant, there was a post on Reddit that was deleted, which featured details from a supposedly leaked internal e-mail that stated that Rousey would be at the Mortal Kombat 11 reveal on January 17th (which appears to be true) and that she will be part of the livestream stage presentation.
Apparently, Rousey's involvement will extend beyond being just a special guest, and it will be announced that she will be voicing Sonya Blade. Keep in mind that all of this information was originally discussed over on The Nerd Mag last week, back on January 10th. This also included a brief look at a work-in-progress box art reveal, which featured the specter Scorpion on the cover while engulfed in gold light with the Mortal Kombat symbol behind him.
The information also pointed out that a new character named Geras is also supposed to be revealed, along with some live gameplay footage. They don't mention anything about showcasing Sonya, but, according to the leak the team was originally going to show off Shao Khan as the pre-order bonus. There will be the presentation of some of the core fighting, the custom variations, the Krushing Blows, and some of the super moves.
Nabbing Ronda Rousey as Sonya Blade definitely seems like a step in the right direction as far as casting is concerned. It would be even cooler if they managed to get Rousey to do Sonya's moves. It would definitely make sense to have a multi-time UFC champion providing the motion capture for one of the franchise's most popular characters. That's not to mention that adding in a few of Ronda's judo techniques into the fold would be a pretty cool thing to have in a Mortal Kombat game.
However, this is still all assuming that Rousey isn't just there as a special guest star. It's not entirely confirmed that she's playing Sonya, but it is at least confirmed that she will be appearing on stage for the formal announcement of the game.
Originally NetherRealm Studios' head honcho Ed Boon revealed Mortal Kombat 11 at the 2018 Game Awards. No details about the actual gameplay, roster, or voice actor line-up was revealed, but it appears all of that information will be made available on January 17th, and we'll finally get full confirmation on Ronda Rousey's role in it all.
Staff Writer at CinemaBlend.
Your Daily Blend of Entertainment News
Thank you for signing up to CinemaBlend. You will receive a verification email shortly.
There was a problem. Please refresh the page and try again.