Nintendo Switch: A Newbie's Guide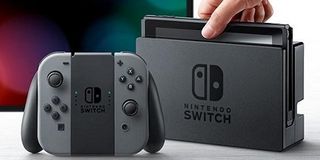 The Nintendo Switch is a runaway success thanks to its inventive design and impressive roster of diverse games. If you're looking to pick one up, we've got some tips to help get you started.
When the Nintendo Switch launched, critics and fans alike were impressed by its versatility. The console is cleverly designed, allowing players to enjoy games on the go in handheld mode or drop it into the dock to keep playing on the big screen. Backed by an ever-growing collection of games from every genre imaginable, it's no wonder the console became an instant success.
If you're looking to pick one up, this handy guide should have you ready to roll in no time!
What Are The Cost And Accessories For The Nintendo Switch?
The Nintendo Switch itself will set you back $299.99, but there are a few accessories we'd recommend you at least consider picking up alongside the console.
Whether you plan on buying physical games or going strictly digital, something you'll want to have handy from day one is a microSD card. One of the Switch's only major design flaws is that it doesn't have much on-board hard drive space. The roughly 30GB of space available will fill up quickly, even if you aren't buying a bunch of digital games. Thankfully, Switch games are nowhere near as massive as on other platforms, so you won't need to go overboard here. You can pick up a 128GB microSD card for about 40 bucks, and we recommend you get one that's at least that big and have it ready to go right when you purchase the console. You can go bigger, obviously, but only if you expect to download a bunch of games.
Otherwise, if you're planning on playing the console with friends, you might want to consider grabbing an extra controller at some point. Another set of Joy-Cons will set you back $80, but we'd recommend you get a Switch Pro controller for $70 instead. The Pro controller is more like a standard game console controller and, combined with the Joy-Cons that you already get with the Switch, the Pro will give you yet another way to enjoy your games.
Finally, we'd recommend picking up a carrying case as soon as possible. The Switch can be played as a portable game console, after all, so you'll want to keep it safe while traveling. The good news is that a sturdy case will only set you back about $20.
Nintendo Switch Online
If you don't plan on ever playing Nintendo Switch games online, then you can probably skip a subscription to the Nintendo Switch's online service. Then again, it offers a handful of other perks that you might consider worth the additional investment. On top of online gaming, a subscription to Nintendo Switch Online allows you to back up your saves to cloud storage, grants access to the Switch's mobile app and subscribers will occasionally gain access to exclusive offers and discounts. Another great perk is access to NES-Nintendo Switch Online, a collection of classic NES games (Super Mario Bros., Double Dragon, Dr. Mario, etc.) that you can play as much as you want so long as you're a subscriber.
You can purchase a subscription through the Switch's online store, accessed directly from the console or online. A one-month subscription will set you back $3.99, while three months costs $7.99. You could also just buy an annual subscription for $19.99. Finally, there's a family plan, which cost $34.99 and supports up to eight consoles in a household.
Getting Started On The Nintendo Switch
Once you've got your Switch out of the box and charged, it's time to dive into its various features. The good news is that setting up the console is super easy, since a series of menus will guide you through the process. This includes everything from creating a Nintendo account to connecting to the internet and activating parental controls. Everything can be tweaked in the options menu after setup, so don't fret if you decide you want to change something after the initial setup.
Another plus for the Switch is that the console is very streamlined. Rather than plug in a bunch of extra bells and whistles, the Switch's menu is a pretty elegant collection of just a few icons. Your games will take center stage and, just under that, you'll find access to things like the Nintendo eShop, a place to check out your captured images and videos, power options and, of course, settings.
Getting Friendly With The Nintendo Switch
It can be easy to miss, but you'll access your own profile simply by clicking the icon at the top left of the screen. From here, you'll be able to see how long you've been playing your individual games and manage your friends list. The Switch offers some help in filling out that friends list with the ability to search your known contacts. If you link your Switch to your Facebook account, the console can automatically suggest friends from your existing list of pals through the social network. Similarly, if your account is also tied to a Nintendo 3DS, or perhaps a Nintendo mobile game, you can search to find out if any of your friends from those platforms also own a Switch. Send them an invite and, as soon as they accept it, you'll be friends.
Sharing The Fun
While the Switch features a bunch of buttons and inputs you're likely familiar with at this point, there's a button on the left Joy-con that's new to the console. It's a square button with a circle on it, which just so happens to be how you access the console's Capture features. The Nintendo Switch allows players to more easily save and share their special moments in-game, which is where this feature comes in handy. While you're playing, you can simply press the Capture button to take a picture of whatever is being displayed on the screen at that moment. If you hold the button for a bit, it will instead save a recording of the past 30 seconds of gameplay.
From the main menu, if you click on the Gallery icon at the bottom of the screen, you can check out your captured images and videos, edit them and, if you've linked your console to Facebook or Twitter, share them to social media.
Play Games With Your Nintendo Switch
Now that you've got your Switch set up, it's time to actually play some games. The good news is that the console already has an impressive library of titles, with games coming from every genre imaginable. If you like epic adventures, you might want to check out The Legend of Zelda: Breath of the Wild. Prefer jumping around bright and colorful worlds as a mustachioed plumber? Then maybe you'll want to give Super Mario Odyssey a spin.
The Switch is also home to a veritable ocean of smaller games that are much easier on the wallet. We'd recommend diving into the eShop and starting to poke around to see what catches your attention. The Switch's virtual storefront includes easy access to a list of the latest game releases, featured titles and top-selling games. There's also an option to simply view games on sale, in case you're looking to save a few bucks. Finally, the search feature lets you locate games based on a wide array of criteria, so be sure to give it a gander if you're looking for something in particular. The search tab is also where you'll be able to peruse games that have demos available, which you can download and take for a spin before committing to a purchase.
And if you're looking for some of our top recommendations, you'll find them below.
The Legend of Zelda: Breath of the Wild
If you're looking for classic Nintendo adventuring on the go or from the comfort of your couch, The Legend of Zelda: Breath of the Wild should be the first game you pick up for the Switch. It's absolutely massive and evolves the series in fun and unexpected ways. It also won about a million Game of the Year awards in 2017, so you know you're in for a treat.
Super Mario Odyssey
Mario's biggest and most diverse adventure to date, Super Mario Odyssey is packed with fun and lively worlds to explore and secrets hidden around every corner. There's plenty here to enjoy if you just want to run and jump around, with even more adventures waiting for dedicated gamers who want to keep on digging. The core objectives are light and family friendly, with plenty of extra challenges bolted on for those who want to put their platforming skills to the test.
Splatoon 2
It turns out that Nintendo can make any genre PG, including third-person shooters. Like everything else Nintendo does, Splatoon 2 is all about having fun in lively worlds full of vivid colors. Whether you like to play competitively, join friends in cooperative missions or tackle a bunch of single player challenges, Splatoon 2 will put your trigger finger to the test in an adventure that trades bullets for splashes of paint.
Mario Kart 8 Deluxe
The best Mario Kart game is made even better on the Switch with beautiful graphics, a huge number of tracks to race on and additional game modes that let you challenge your friends or online opponents. With plenty of unlockables and fun competitive modes to explore, Mario Kart 8 Deluxe will have everyone begging for "just one more race."
Super Smash Bros. Ultimate
If you're looking for a game to put on your wish list, Super Smash Bros. Ultimate is due out in December and promises to up the ante by a sound degree. The roster of characters in this fast and frantic brawler totals nearly 80, with levels, music and assist characters pulled from throughout Nintendo's history. Developed to be the ultimate Smash Bros. fighting experience, this game will likely be a party favorite for years to come.
Your Daily Blend of Entertainment News
Staff Writer for CinemaBlend.