Destiny 2 Crimson Days Reschedules Start Date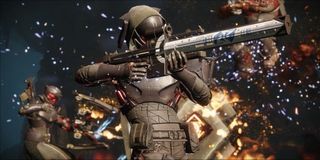 (Image credit: Bungie)
When Bungie and Activision split apart, the former announced that it would still support Destiny 2 even without the publishing support of the latter. Bungie is holding true to that. And even though there have been some hiccups with the Crimson Days event, the developer has made sure to keep the ball rolling by rescheduling when the Crimson Days event will get underway.
Over on the official Bungie website, there's a breakdown of the rescheduling efforts for the Crimson Days event, which appeared on the 2019 roadmap. There's a small section in the update that rolls out the details for the Crimson Days, which states...
For whatever reason, the event was moved back by a week, but you'll still be able to get in on the Crimson Days, which originally made its appearance in Destiny back on Valentine's Day in 2016. This was originally supposed to take place directly after the Mayhem! event, which is scheduled to take place between January 29th and February 5th between the end of the month and the start of the new one.
Even still, Bungie is not only keeping to its promise of supporting Destiny 2, but doing so with regular events that nearly start and stop one week after the next. The Mayhem! Event is for gamers who want to test their mettle in the Crucible, while the Crimson Days will be a cooperative event for those who like teaming up with friends and taking the fight to the enemy.
Following Crimson Days, there will be some cleaning up and fixing up of certain features heading into the launch of the Season of the Drifter. According to the update, bounties that were acquired in the previous seasons will have a maximum possible power reward. The idea is to lessen the need for players to hoard the keys, and instead cash them in for the maximum power reward even for events and bounties from many seasons ago.
Bungie seems resolute on fixing up Destiny 2 as much as possible now that the company is free from being under the wing of Activision. Some gamers felt that perhaps the publisher was restricting the developer to focus more on monetization methods rather than gameplay mechanisms and fun-factors. Given the fact that Activision lamented the lack of revenue that the game was generating, and the eventual termination of the partnership between the two companies, it's likely that the suspicion from gamers was true.
We'll see how well Bungie can maintain the growth and updates for the sci-fi first-person shooter in the coming months. However, in the short term, gamers will be able to dive into the Crimson Days event starting in mid-February on home consoles and PC.
Your Daily Blend of Entertainment News
Staff Writer at CinemaBlend.