5 Of The Best Dragon Ball Z Games Ever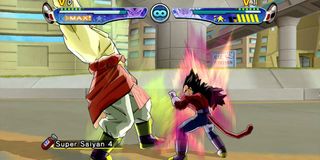 With Dragon Ball Z: Extreme Butoden on the horizon and constant updates coming to Dragon Ball Xenoverse, it's a great time to be a Dragon Ball Z fan. But don't fool yourself into thinking these are the cream of the crop or even the best Dragon Ball Z games out there. There are several other options that have been released over the years with plenty of reasons to revisit them, even if you've seen all the DBZ universe has to offer.
Here are 5 of the best Dragon Ball Z games ever. Get ready to feel a mighty, mighty need for more hardware based in the wide world of Dragon Ball.
Dragon Ball Z: Super Butoden 3
This Super Nintendo classic was likely an emulator favorite among those of us young enough to experience Dragon Ball Z's takeover of the United States as it happened. Though it only featured 10 different playable characters and followed the series through the Majin Buu saga, it was a fighter you thrilled to annihilate your friends in, and then you edited the sprites later, because they were so darn cool. The high-quality voice clips from the Japanese voice actors were excellent as well. This cult classic still remains one of the better 2D fighters today.
Dragon Ball GT: Final Bout
Though technically this PlayStation release followed the oft-reviled Dragon Ball GT over Dragon Ball Z, it was an excellent full 3D fighter that featured ki attacks known as Special Knockout Tricks and an interesting roster, with English voices. Though the English voice cast didn't match the familiar ones from the series (Steven Blum as Goku, for instance) and it seemed a little rougher around the edges than normal, it provided surprisingly robust fighting environments and fighters from the Dragon Ball GT universe like Baby Vegeta. It was incredibly difficult to procure, but when and if you picked it up, you were the talk of your circle of friends. You still would be. It's good stuff.
Dragon Ball Z: The Legacy of Goku II
This Game Boy Advance gem proved that Dragon Ball Z games weren't just localized to fighting and could be a lot of fun when given the chance to shine in other genres. Markedly better than the first title that released, The Legacy of Goku II was both fast/paced and challenging, with a gripping storyline for fans of the show that would often borrow from the anime. It was received positively by both critics and consumers and is widely considered one of the best handheld Dragon Ball Z handheld adventures you can find.
Dragon Ball Z: Attack of the Saiyans
Though a very different beast from that of the Game Boy Advance RPGs, this Nintendo DS release was still an interesting endeavor that culled from the show itself in several ways. It was also an admirable attempt at bringing structure and story-driven action to the series in its video game adaptations. It's also a cool look into the heads of several Dragon Ball characters you may not have paid much attention to in the actual series. It stays faithful to the storyline without rocking the boat and offers plenty of fanservice for longtime viewers of the anime and followers of the manga.
Dragon Ball Z: Budokai 3
The Budokai series was the Cadillac of Dragon Ball fighting games when it released, and the third installment ties everything together in one neat, tidy little package. From the crisp cel-shaded graphics to the several characters available for use, it oozed perfection as a Dragon Ball Z fighter. And with hundreds of story re-enactments to unlock, even the most hardcore fans could find something to like about it. World Tournament Mode shattered many a friendship, and Story Mode was hours of fun. It's the quintessential Dragon Ball fighter, and worth seeking out, especially since it was re-released in HD.
Your Daily Blend of Entertainment News
Thank you for signing up to CinemaBlend. You will receive a verification email shortly.
There was a problem. Please refresh the page and try again.