5 Classic Japanese Games That Need To Be Updated For A New Generation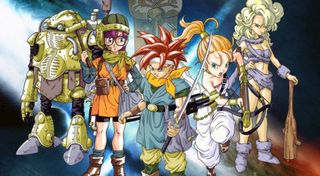 Square Enix did something a lot of people have been begging them to do: remake Final Fantasy VII. Heck, Final Fantasy VII isn't even the only game that people have been clamoring for when it comes to remakes. However, with Square acquiescing to that request and giving in to what the people want, it got us thinking. There are definitely a handful of memorable, classic Japanese role-playing games that also need to be updated for the new generation of today's gamers.
We decided to put together a list of some of the classic and venerable titles that helped shape our youths (and young adulthoods) throughout the ages and a few of these games you might remember and few you might not. Nevertheless, all of the following games definitely need to be remade with the available technology afforded to today's generation of gaming. So without further ado, check out the list below.
Chrono Trigger
One of the most popular games during the 16-bit era was the SNES role-playing game from Square called Chrono Trigger. This 1990s gem was full of wonder, multiple endings and an active turn-based battle system that had some really awesome combo capabilities. Square has re-released the game over the years on different devices but they've yet to properly remake the game. Most fan attempts have been shutdown and Square has resolved to only re-release the game about a hundred times on different platforms but never commit to a full remake. With Square set to remake Final Fantasy VII it only seems fitting that one of the most beloved classics from the SNES era could be in for a refitting and a much-needed graphical upgrade and gameplay overhaul. Chrono Trigger remade for today's generation of gaming needs to happen.
Legend of Dragoon
Despite having a lot of mixed critical reception and a few reviewers completely taking the title to task when it first released back in 2000, the game Legend of Dragoon was easily one of the coolest JRPGs released back in the day. The concept centered around a group of dragoons who could transform into a dragoon and unleash devastating attacks. What made it so different from other games was that the combat system was very challenging and relied on timed button presses during combat to execute attacks properly. Gamers have been clamoring for a remake of this title for ages and despite the mixed critical reception (mostly because the game was a buggy mess when it originally released) I think this is one of those titles that could do very well running on the Unreal Engine 4 and making use of the old combat system brought up to today's standards with refined controls and improved mechanics.
Rudra
This is one of the most underrated JRPGs of all time. Why? Because it introduced a system where you could create your own magic. Yes,the game had various values attributed to words, so by choosing different words and compounds you could make your own magic. It was such an impressive etymological system for a game so old. How cool would it be if the game was made for today's systems? Upgraded special effects, all new algorithms based on word construction, and a bevy of opportunities to completely switch up the way players strategically engage in turn-based combat. There haven't been many games that really challenged the way gamers manipulate magic in RPG and this would be the perfect opportunity to mix things up in the JRPG realm.
Skies of Arcadia
Sky pirates... how do we not have more games about sky pirates? Well, Sega's Skies of Arcadia is one of those underrated gems that made up for the very celebrated yet very small library of Dreamcast games. The originality of the game was captured in the sky-ship theme, where players could pilot their ship around and discover new isles and loot dungeons. Random battle encounters ensured that players were kept on their toes whether on the ground or in the air – yes there were ship-to-ship air battles to keep things fresh. For today's gaming rigs could you image a procedural destruction system for the pirate ships? Even in turn-based combat that would be amazing to see, we got a brief glimpse of it in the Skies of Arcadia stage in Sonic All-Stars Racing Transformed but it would be grand to see an entire game like that. Randomly generated isles and a cel-shaded art-style would make the Skies of Arcade remake complete.
Tales of Phantasia
This is such a beloved role-playing title from the bygone 16-bit era. Tales of Phantasia was one of those rare games that really pushed the SNES to its very limits. Unfortunately the game was only released in Japan at the time but has become quite popular in the fan-translation communities. The game had some real twists and turns as far as the story went, especially with the main bad guy; and it featured an original side-scrolling battle system that hasn't really been done quite in the same way in any other game following its release. Actually remaking the game and keeping the side-scrolling combat would be pretty cool. The game would also make for a great PS Vita or Nintendo 3DS title, and having a more subdued medieval fantasy title instead of the more over-the-top fantasy worlds that newer Tales of games have dabbled in could make for a great throwback experience.
Staff Writer at CinemaBlend.
Your Daily Blend of Entertainment News
Thank you for signing up to CinemaBlend. You will receive a verification email shortly.
There was a problem. Please refresh the page and try again.