Final Fantasy 7 Remake Won't Use Final Fantasy 15's Engine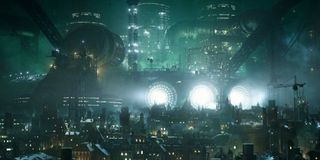 Square Enix has yet to show off any footage from Final Fantasy 7's full remake so far. They were willing to at least share some important technical information about the game, though.
During Gamescom, Square Enix's Hajime Tabata confirmed to Nova Crystallis that the FF7 won't be using the same Luminous Studio Engine that's powering Final Fantasy 15:
It's stil unclear what engine the FF7 remake will be using, though maybe the full Nova Crystallis interview with Tabata will shed some light when it's published. The initial teaser trailer released at this year's E3 suggested that the remake will give the game a substantial visual overhaul. In that trailer, Cloud looked more like a real person and less like a Popeye-armed action figure:
While the Final Fantasy 7 remake's actual visuals might not match that video, they do give a sense of the general direction Square Enix is headed. Director Tetsuya Nomura said in a later interview that the remake "match today's visuals and appear closer to reality."
The Luminous Studio Engine would certainly be able to accomplish life-like graphics. Everything we've seen so far of that technology has been impressive. Square Enix floored everyone in 2012 with the initial tech demo, called "Agni's Philosophy." They then followed that video with a new demo dubbed "Witch Chapter 0" this Spring:
Final Fantasy 15 is the first game to utilize the Luminous Engine. FF15 allegedly won't be out until sometime in 2016 so it'll be awhile before we see what a real Luminous game is like.
I'm surprised that Square Enix isn't using their fancy new engine to rebuild Final Fantasy 7. Assuming the remake beats Final Fantasy 15 to stores, it would be a way to show everyone what the technology can really do and in the process get everyone pumped for FF15. Maybe in an ideal world Square Enix would have done that but maybe the company figured it would be far easier to use an already-completed, third-party technology for the remake instead.
The only other game rumored to use Luminous Studio was Kingdom Hearts 3. Square Enix never confirmed whether that was the case but announced in 2014 that they were switching the game to Unreal Engine 4 "for various reasons."
FF7's remake is being developed for an unknown release date. In addition to a graphical overhaul, the remake will also update the classic RPG's combat. For example, Square Enix recently revealed that they're going to dramatically change the combat.
Staff Writer at CinemaBlend.
Your Daily Blend of Entertainment News
Thank you for signing up to CinemaBlend. You will receive a verification email shortly.
There was a problem. Please refresh the page and try again.