Hit Dreamcast RPG Grandia II Coming To PC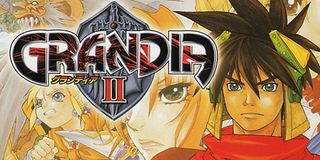 Fans of classic JRPGs have a lot to be excited about today, as one of the most beloved old school genre hits is about to make its way to a modern platform courtesy of GungHo Online Entertainment America. The publisher recently revealed its latest project, none other than the classic Dreamcast adventure, Grandia II.
A publisher best known in the U.S. for bringing Japanese games Stateside, GungHo is perhaps best known these days for providing the upsettingly addictive Puzzle & Dragons, as well as the recent Ragnarok Odyssey and Dokuro games on the PlayStation Vita. Last night, the publisher made its biggest announcement yet: A remastered version of Grandia II is being brought to Steam and Windows PC.
Likely a bummer to those who prefer gaming on consoles, the fact that Grandia II is re-launching on any platform should be considered a win. Even better is the fact that the original Dreamcast version of the game is being used as the foundation for this latest addition to the series, meaning fans of the doomed console's under-appreciated library will have the ability to relive one of its trademark titles. (I believe this is the part where I'm supposed to push up my glasses and casually mention that my copy of Grandia II is still sitting on the shelf and ready to roll in my Dreamcast at any time, but I don't want to get too alpha nerd here.)
Unfortunately, GungHo makes sure to mention that work on the upgraded version of the RPG is only just now getting underway so, depending on what sort of challenges the team faces, there's no telling when the PC version of the game will launch. Then again, they're re-mastering the game rather than building one from scratch, so fingers crossed that this won't take too long. The JRPG genre has been kind of slow as of late, so having a classic to help fill the gaps would be a nice addition to any fan's library. It's also cool that the publisher looks to be undertaking this project for some good old-fashioned historical preservation reasons, too.
"With the rise of digital downloads, it is especially important that classic games continue to remain available to play in some form," said Jun Iwasaki, president of GungHo Online Entertainment America in a recent press release. "Grandia II was chosen for a PC re-release because it represents both a hallmark of the Grandia series and an example of how great JRPGs can be."
The announcement goes on to state that the game will be fully optimized for PC with updated HD visuals, the ability to play keyboard and mouse or with a gamepad, as well as Steam Achievements, trading cards and other usual bells and whistles.
This news, of course, now has me thinking about what other Dreamcast RPGs I'd like to see brought to a modern platform. Skies of Arcadia is the obvious forerunner, and I suppose a guy can dream big with something like the original Phantasy Star Online. The two Evolution games would also give folks an opportunity to play some overlooked RPGs from an equally overlooked platform. Provide your two cents in the comments section below.
Your Daily Blend of Entertainment News
Staff Writer for CinemaBlend.
Your Daily Blend of Entertainment News
Thank you for signing up to CinemaBlend. You will receive a verification email shortly.
There was a problem. Please refresh the page and try again.