5 Great Games Coming In December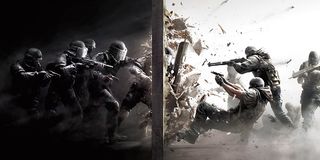 In case you thought there were no more games coming out before 2016, we've got a handful of titles releasing in the next couple of weeks that would beg to differ. Get ready for some last-minute entries to your holiday wish list.
It's not uncommon for the biggest games of the year to launch just before the biggest shopping day of the year, Black Friday. That melee-infused shopping extravaganza has come and gone this year, but that doesn't mean developers/publishers have called it quits for 2015.
Here are five games (well, technically six) worth checking out before the New Year rolls around.
Just Cause 3 (PS4, Xbox One, PC)
Launching Dec. 1, Just Cause 3 takes everything players loved about the first two games in the series and cranks it up to 11. If you were to take a series like Saints Row and smash it together with Far Cry, you'd end up with something that looks a lot like Just Cause 3.
A third-person action game, Just Cause 3 puts a heavy emphasis on creativity and having some good old-fashioned fun. An island nation is trapped under the rule of a vicious dictator and your job is to go in and make the dude's life an absolute nightmare. Rather than sneak about like in the Metal Gear series, you're openly encouraged to be as destructive as possible. Shoot everything and blow up whatever is left standing. Glide around at will or use your handy grappling hook to zip from Point A to Point B more quickly.
If you're tired of stone-cold-serious military shooters, Just Cause 3 is likely the perfect antidote, offering oodles of vehicles, weapons and gadgets, as well as a massive toy box of an island in which to unleash them.
Tom Clancy's Rainbow Six Siege (PS4, Xbox One, PC)
Finally arriving on consoles and PC Dec. 1, Rainbow Six Siege is the long-awaited return of a series that makes it fun to work as a unit to take down terrorists or stick it to the man.
Following what has become a more common trend in shooters these days, Siege does away with the single player campaign, opting instead to focus on what has been the main draw of the series for quite a while: Online competition.
Rather than waste time and resources on yet another heavy-handed tale of espionage and double crosses, Siege instead packs in lots of modes and maps for players to get to know on both sides of the law. You'll have all of the usual firearms and gadgets at your disposal from previous Rainbow Six games, as well as a bunch of new toys that will make things tougher for your opponents and easier for your teammates. There's also a big focus on destructible environments this time around, so expect matches to be more dynamic than ever before as teams try to outmaneuver and outgun one another.
Chivalry: Medieval Warfare (PS4, Xbox One)
Originally released on PC a few years ago and making its way to last gen consoles last year, Chivalry: Medieval Warfare finally arrives on the PlayStation 4 on Dec. 1 and the Xbox One on Dec. 2.
Played from the first or third-person perspective, Chivalry is basically what you would get if Call of Duty was set in medieval times, hence the subtitle. Guns and grenades are replaced by swords, spears, shields and arrows, with catapults and rams thrown in for good measure. Teams of up to 24 players can duke it out in a number of game modes that range from colosseum-style melees to sieges where one team tried to overrun a castle and another defends.
A PC favorite since 2012, you'll finally be able to download Chivalry on modern consoles for 20 bucks starting this week.
Xenoblade Chronicles X (Wii U)
Arriving Dec. 4 on the Wii U, Xenoblade Chronicles X is a big deal for several reasons. For starters, it's a new game launching for the Wii U, which is kind of a rarity these days. Secondly, it's a JRPG, which is even less common for Nintendo's home console. Finally, according to recent reviews, it's really, really good.
A spiritual successor to the Wii exclusive (and eventual 3DS remake) Xenoblade Chronicles, this follow-up in the cult-favorite series features all of the usual JRPG trimmings, complete with a massive world to explore, characters to equip and specialize and more than enough baddies and loot to keep you busy for dozens of hours.
Finding yourself on a beautiful alien planet, you'll need to learn to coexist with the local wildlife if you want to survive. Some of that wildlife and plenty of human threats will stand in your way, though, so expect to get in plenty of combat that mixes traditional systems with more action-heavy mechanics.
Oh, and did we mention you'll be building, cruising around and fighting in mech suits? In my book, that alone makes Xenoblade Chronicles X worth checking out.
Earth Defense Force (PS4, Vita)
Fans of the Earth Defense Force series are in for a double feature of bug-killing fun on Dec. 8 as two new games arrive on the same day. Earth Defense Force 4.1: Shadow of New Despair for the PlayStation 4 will launch side by side with Earth Defense Force 2: Invaders From Planet Space for the Vita. In case those names didn't give it away, the EDF series has always been about B-movie, popcorn fun that would feel right at home on the Syfy channel.
What began as a budget series (and still carries a lower price point than your average new game) built a cult following over the years thanks to one simple idea: People want to kill huge insects and robots with loads of weapons and vehicles. Also, blowing up buildings with two rockets, tops, is fun.
EDF doesn't bother with a deep story or any of those other AAA trappings. Instead, this series typically delivers big, mindless fun crammed into dozens of missions that have you killing lots and lots of alien invaders.
Your Daily Blend of Entertainment News
Staff Writer for CinemaBlend.