7 Hollywood Actors That Need To Be In Call Of Duty Zombies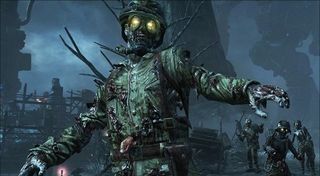 Call of Duty is easily one of the biggest franchises in the world of gaming right now and Activision has been pulling out all the stops when it comes to bringing in celebrities both for the standard campaigns and for the zombie mode. But wouldn't it be cool if they managed to get certain actors known for their roles in action or horror movies to appear in one of the upcoming zombie modes?
While obvious names like Sylvester Stallone, Jason Statham and Arnold Schwarzenegger are probably at the top of any list to make the cut in Call of Duty, it seems like those guys would be better suited for starring in their own games.
With the latest zombie mode featuring Jeff Goldblum, Heather Graham and Ron Perlmen, it only seemed appropriate to throw out a few more names who might also find a likely place in the lauded arcade of heroes and heroines appearing in the billion-dollar franchise. Here are some other actors in Hollywood that would definitely fit in Call of Duty's celebrity-filled zombie mode.
Ms. Tomb Raider herself. While she may not play Lara Croft again, it's easy to imagine her playing a new bad-ass role: zombie hunter. Admittedly Activision would have to pay top dollar for Angelina Jolie's likeness and appearance in new version of Call of Duty's zombies. However, given her wide range of dark and troubled characters throughout her career, ranging from thrillers like Original Sin to action-packed flicks like Salt, she'd be a great fit for COD's undead battles.
Here's another star who seems too big to make an appearance in Call of Duty. Yeah, everyone's heard of Activision's billion dollar franchise at this point but not everyone will likely want to step into a role in the game... especially a small role fighting zombies. Even still, having the former Dark Knight suit up to hunt down and fight zombies would be pretty cool. Bale's perpetually-angered look and known temper would be perfect for a hot-headed hero looking to pump some lead into some the rampant zombie hordes. Will it ever happen? Probably not. Can we still dream? Sure.
Norman Reedus
Seriously, why hasn't Reedus been in a Call of Duty game yet? The actor already has a game under his belt working with Activision in the form of The Walking Dead: Survival Instincts. In that game, Reedus teamed up with Walking Dead alum Michael Rooker, who also appeared in a Call of Duty zombie map . It would only make sense that Reedus drop into the world of CoD's zombie mode at some point. Heck even his former co-star Jon Bernthal has put in some time in Activision's popular FPS franchise. Now is the time for Reedus to get the call-up and perform in a role taking place in a world where he was meant to be a badass. It's time for Reedus to answer the call of duty and be the zombie killer he was always meant to be.
Eric Roberts
Veteran actor Eric Roberts seems like a perfect actor to drop in as a grizzled character for the zombie mode in Call of Duty. He has some serious range and has been in everything from romance flicks to action films to horror movies. Roberts could easily pull off a gun-happy arms dealer or a suave, killer businessman. Heck, he could even rekindle his martial arts action-movie days when he was trading fisticuffs alongside Philip Rhee in Best of the Best. No matter what the role is I'm sure Activision could come up with something for someone as versatile as Eric Roberts, plus he has the look and voice to pretty much bring any character to life in Call of Duty.
It's unlikely that Matt Damon would ever be in a Call of Duty game, but at the same time his film resume screams potential-Call of Duty-alum. He's best known for his roles in the Bourne movies (which also spawned a game based on the movies) and managed to fill out roles in flicks like Saving Private Ryan and Green Zone. There's definitely some meat there for Damon to latch onto in the militarized material circulating the Call of Duty franchise. Heck, they could even put Damon in the role of a heightened caricature of his Talented Mr. Ripley role, making him an enigmatic killer with a penchant for disguises and expert skills in killing zombies.
While there are a ton of celebrities from all sorts of movie genres that could be suited for the Call of Duty universe – and in particular, the zombies portion of the game – I'm genuinely shocked that we haven't already seen scream queen Neve Campbell make the leap into the world of Call of Duty. Campbell might be known for various roles across a wide spectrum of movies and television, but Scream will always be the one series that many people will fall back to as the defining aspect of her popularity. Activision already plucked Buffy: The Vampire Slayer and Scream alum Sarah Michelle Gellar for Call of Duty: Black Ops "Escalation", it would only make sense that they finally bring on Campbell as a survivor in the popular zombie mode for Call of Duty.
Kurt Russell
How hasn't this happened yet? Snake Plissken has been inspiration for tons of tough-guy action heroes over the years, including Kojima's own Big Boss/Solid Snake. It seems insane that one of the most prominent heroes in the action genre hasn't been featured in Call of Duty... yet. The guy already proved himself in Escape From New York, The Thing, Big Trouble In Little China and so many other blockbusters. Activision needs to find a way to get him in the game ASAP.
Your Daily Blend of Entertainment News
Staff Writer at CinemaBlend.