Aeria Games Acquires ijji Games From NHN Corp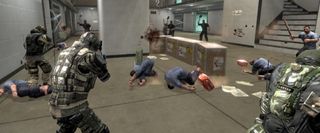 Aeria is sort of on a buying/publishing spree...continually moving on up the ranks as a free-to-play publisher. After hitting it big with Dynasty Warriors Online, publishing Need for Speed Online from EA and further expanding their reigns into new territories, Aeria has now announced that they have bought out ijji Games from NHN Corporation.
Lan Hoang, Chief Executive Officer, Aeria Games commented in the press release, saying...
Aeria now has more than 30 different free-to-play titles under their belt and one of the most popular free-to-play shooters has now joined their ranks, Alliance of Valiant Arms, which is literally a free-to-play version of Call of Duty: Modern Warfare.
What's more is that NHN's external funding will give Aeria leeway in acquiring or developing brand new MMOs moving forward. It will be interesting to see if Aeria continues to work on niche-specific MMOs that draw in a large crowd or if they will they aim to compete with the big boys by dumping millions into a big budget project.
You can learn more about Aeria Games, their acquisition of ijji and their continued growth by visiting their Official Website.
Staff Writer at CinemaBlend.
Your Daily Blend of Entertainment News
Thank you for signing up to CinemaBlend. You will receive a verification email shortly.
There was a problem. Please refresh the page and try again.