Age Of Wushu Twilight Village Screenshots Released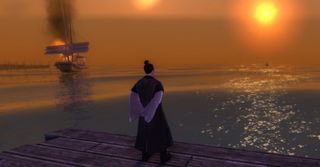 Snail Games' Age of Wushu will be on the receiving end of some new content soon in the form of the Twilight Village. The new screenshots arrive alongside the announcement from the Snail Games team that Age of Wushu's official launch will be delayed to spring of this year.
The martial arts MMO, officially endorsed by martial arts superstar Jet Li, is currently undergoing closed beta testing and is focusing on ironing out all the bugs, kinks and imbalances that typically plagues an MMO during the early goings of release.
However, just because the game is still being tweaked and modified doesn't mean it doesn't already have content being lined up for release further down the road. Snail Games unleashed some new screenshots of the Twilight Village Story to give gamers a brief glimpse of what's to come.
The game itself is a really cool departure from the typical MMORPG process by focusing on allowing players to build and create the martial arts master of their dreams by learning various techniques and skills from eight different schools scattered throughout the game world. Each of the styles represent classic kung-fu archetypes that have become infamous throughout the world of kung-fu classic cinema.
If you'd like to learn more about the game, or join in on the beta, be sure to pay a visit to the Official Age of Wushu Website. You can scope out the new screenshots for the game below.
Image 1 of 16