Allods Online Offers Player-Created Dungeons In Path To Victory DLC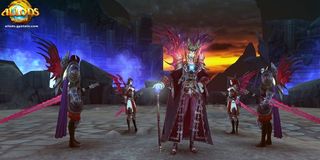 Usually we all play MMOs because we want to be the hero but, deep down, there's a little dungeon master lurking in all of us. That's why the upcoming Path to Victory expansion for Allods Online is so intriguing; it lets players create their own dungeons, which other players can then tackle solo or in a group.
Coming from the folks at Gala Networks, Allods Online is an MMO set in a fantasy world where players, as you might have guessed, pick a class, battle monsters, loot gear, etc. One of the features that sets the game apart from the pack is that players get to create their own homestead of sorts, called an Allod, that they can decorate and use to farm resources.
Following the Lords of Destiny DLC that came out this past March, the Path to Victory expansion is set to arrive on June 5, offering all sorts of in-game improvements, including those player-made dungeons we were just talking about.
Players can create their own mazes in the upcoming DLC, which they can then defend with a set of guards and monsters. The complexity of the dungeons and difficulty of the monsters will determine how safe various resources are that you've hidden at the heart of your personal labyrinth. Once you've got your dungeon up and running, other players can jump in and try to overthrow your creatures in an attempt to snag whatever treasure you've hidden there.
Along with the dungeon creator, the Path to Victory update will include a visual makeover for some game aspects, an overhauled tower system for your personal space, a new Weaponsmith to create weapons, relics and gems, and a totally revamped Warrior class with new abilities and rubies, more damage and a better variety of abilities to use on the battlefield.
The new update is still a few weeks out, but if you're looking to go ahead and get the ball rolling on your own Allods Online adventure, further details and a download for this free-to-play MMO can be found at the game's official website.
Staff Writer for CinemaBlend.
Your Daily Blend of Entertainment News
Thank you for signing up to CinemaBlend. You will receive a verification email shortly.
There was a problem. Please refresh the page and try again.