The Amazing Spider-Man 2 Xbox One Version Cancelled?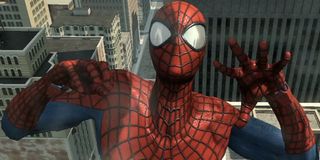 Update: Activision has released a second statement with less ambiguity and more optimism than the first one.
"We are working with Microsoft in an effort to release The Amazing Spider-Man 2 video game on Xbox One," Activision told GamingBolt.
Original article: The Amazing Spider-Man 2 video game is coming to one less platform than expected this month. Activision has decided to push back and possibly cancel the Xbox One version.
Sources told GamersHonestTruth that Amazing Spider-Man 2 was delayed indefinitely on Xbox One. The site then noted that all mentions of the XB1 version were scrubbed from the game's official website. What's more, their pre-order of the game for Xbox One was cancelled by EB Games.
MCV reached out to Activision and received the following statement: "We want to inform you that we are revising our release plans for ASM2 on Xbox One. When and whether ASM2 is released on Xbox One is TBD."
A delay for one version of a multiplatform game isn't uncommon even weeks before launch. Hell, Ubisoft's been doing it to the PC versions of their games for years. Typically, though, the publisher makes it clear that the game is being delayed rather than cancelled. Activision's ambiguity is really surprising.
Amazing Spider-Man 2 was supposed to launch on April 29th on all platforms here in North America. At this point, you'd think that the Xbox One version is almost completely finished. Is the XB1 version just in too rough of shape to be released on schedule?
ASM2 developer Beenox had to develop the game for several platforms simultaneously. In addition to Xbox One, they were building the game on Xbox 360, PS3, PS4, PC and Wii U. Getting the game to work smoothly on such a wide range of hardware doesn't sound easy so I'm not surprised one version didn't get the needed polish.
GamersHonestTruth floated the theory that the Xbox One version was delayed because Sony is producing the Amazing Spider-Man 2 movie. I'm not sure I buy that, though. After all, ASM2's still coming to Xbox 360 and Wii U on time. Furthermore, the first ASM was released simultaneously on PS3, Xbox 360 and Wii. Activision's the publisher of the game so they should be responsible for any decisions about release dates.
The Amazing Spider-Man 2 game is an alternate version of the story from the upcoming film. It has connections to the plot of the first game, released in 2012. Players will freely roam through New York City and fight supervillains like Green Goblin and Electro.
The most recent gameplay video for ASM2 looked fun. It's a shame that XB1 owners might not get to experience it at all.
Your Daily Blend of Entertainment News
Staff Writer at CinemaBlend.