Amplitude PS4 And PS3 Reboot Seeks Kickstarter Funding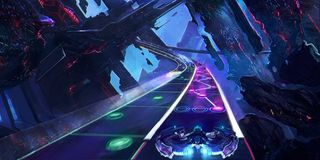 Rhythm game fans of yesteryear and gamers who enjoy groovy trips through psychedelic, music-powered roller coasters might be interested to know that Harmonix is looking to bring a new version of Amplitude to the PlayStation 3 and PlayStation 4 and, despite being a big, AAA developer, the team is turning to Kickstarter to try and get the game funded.
A lot of folks might roll their eyes when a big company like Harmonix utilizes crowd-funding to bring a new game to market, but I'm pretty much all for it. You can't really look at this as "company with money looking for gamers to fork over more cash." Kickstarting a game is little more than putting in your pre-order nice and early, though without the safety net that a product will ever actually be delivered. With a company like Harmonix behind the campaign, though, you have less to fear from being worked over than if, say, Joe Average were trying to get you to fund their game.
Also, there's the fact that Amplitude and its prequel, Frequency, was an extremely niche title on the PlayStation 2 and, because of that, convincing the higher ups at a developer or publisher to get behind the game might be damn-near impossible. Turning to Kickstarter is a great way to gauge community interest in a project, fund the project, and then get it to market so even more folks can give the game a run.
And it looks like that's exactly what Harmonix is doing with Amplitude, a new version of the last-last-gen rhythm game that sees players riding musical waves in order to rack up a killer high score. By way of comparison, here's a look at some footage from the PS2 version of the game.
Harmonix Art Director Ryan Lesser brought the Amplitude reboot to everyone's attention today via the PlayStation Blog, explaining that this new version of the game should be seen as a celebration of the studio's first rhythm game from 13 years ago.
"[Frequency] wasn't a commercial hit at the time, but fans and critics loved it," Lesser explained. "Even so, we knew we could do better. We polished, tweaked and tightened the experience and, in 2003, we released Frequency sequel, Amplitude."
Ryan Lesser goes on to explain what, exactly, Amplitude is all about.
"If you missed the original release, Amplitude is a fast-paced rollercoaster ride through an all-digital landscape, where musical notes have been 'silenced' by encapsulating gems," he said. "By destroying the gems with their ship, the Beat Blaster, players release the music within. Each track on this crazy ride represents a specific instrument, so gems can activate sounds including guitar riffs, bass lines, drum beats, vocal lines and more."
In order to bring Amplitude to a new generation of gamers, Harmonix is looking to raise $775,000 for the project and currently has 17 days left to go. As of this writing, the team has raised just shy of $100,000. For full details or to throw in some support, visit the official Kickstarter Page.
Staff Writer for CinemaBlend.
Your Daily Blend of Entertainment News
Thank you for signing up to CinemaBlend. You will receive a verification email shortly.
There was a problem. Please refresh the page and try again.