Assassin's Creed Co-Creator Unveils Footage From Unreleased Game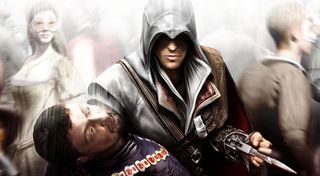 One of the co-creators of the original Assassin's Creed, Patrice Désilets, was terminated from Ubisoft back 2013 when he was working on a game called 1666 Amsterdam. The game was caught in legal limbo for the longest, and now that Désilets has the IP rights back, some footage has been unveiled.
Eurogamer picked up the video from YouTuber Brandon Sheffield, who managed to capture the off-screen gameplay from a Reboot Develop Conference that took place in Split, Croatia at the Le Meridien Lav resort.
The video above starts with a brief cinematic before putting players in control of a raven who soars low in the air through a village, followed by some gliding through a beautiful, harbor set against the setting sun. The raven is used to pluck the eye out of a man hanging from a pole.
The gameplay then switches to a man in black on a boat who can control various "satanic" animals, including a cat and a rat. The cat attacks a man and brings back an item to the man in black, who adds the item to his magical cane.
We then see a rat traveling through a building as it brings back another item, giving the man in black some devastating magical powers to dispense on his enemies.
We get to see a little bit of the combat, which included a similar approach to the Assassin's Creed games, and then we get to see the magic powers on display. Apparently players would have to micromanage certain ingredients in order to use certain spells. It was an interesting setup and a very different approach for using magic in a game.
According to the Eurogamer article 1666: Amsterdam was supposed to be set for release on the Xbox 360 and PS3, but after Désilets was terminated from Ubisoft back in 2013 the IP got caught in some legal wrangling. It wasn't until recently did Désilets get the rights back to the game from Ubisoft after some bad blood was exchanged. Things are now amicable between the two parts.
However, Désilets will not be finishing work on 1666: Amsterdam. After being let go from Ubisoft he began working with Panache Digital Games on Ancestors: The Humankind Odyssey. So maybe after finishing work on that he and the rest of Panache can get back to work on the Assassin's Creed-style successor?
The game certainly looked way too good for a PS3 or Xbox 360 release. The cloth physics alone would have been too much for the seventh gen consoles, that's not including the dynamic rag-doll effects that were on display, or the HDR lighting and real-time shadow rendering that was on display. Heck, I don't even think the game could look that good on the PS4 and Xbox One based on how much downgrading took place with Watch Dogs to get it running at 30fps on the Xbox One and PS4.
Anyway, it's easy to see how 1666: Amsterdam could be the successor to Assassin's Creed, and it would be interesting to see how playing as a satanic divinator would work out over the course of an eight hour adventure. Maybe we'll see Désilets and crew return to the title once they finish up on Ancestors.
Your Daily Blend of Entertainment News
Staff Writer at CinemaBlend.
Your Daily Blend of Entertainment News
Thank you for signing up to CinemaBlend. You will receive a verification email shortly.
There was a problem. Please refresh the page and try again.