Assassin's Creed: Liberation HD Leaps Onto PS3 This Week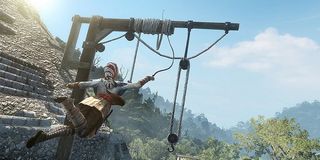 Into week two of the new year and the PlayStation Network stream of content is steadily building for 2014, offering a new HD remake for the PlayStation 3, as well as a handful of smaller titles and even the PSOne Import of the Japanese fighting game, Double Dragon.
It seems like part of Sony's strategy moving forward is making various games playable on multiple platforms. PlayStation Now is all about streaming games to the PS3, PS4 and Vita, console games like Borderlands 2 are headed to the portable Vita and, now, Vita games like Assassin's Creed: Liberation are headed to the PlayStation 3.
Released in late 2012 for the PSV, Liberation puts players in the role of the first female assassin, Aveline de Grandpre, a ridiculously capable seeker of justice who relies on her wits as much as her skills in combat to get through various situations. Aveline has the ability to change her outfit in Liberation, allowing her to be disguised as a slave or a woman of high society in order to move around undetected, eavesdrop on enemies or sneak up on targets. When the going gets tough, though, she's got an entire arsenal of assassin gear to help her along, including pistols, swords and, of course, wrist-mounted blades.
While Liberation played well on the Vita, PlayStation Social Media Specialist Ryan Clements recently stated that the HD remake for the PS3 will be optimized for its new console.
"Assassin's Creed: Liberation HD presents Aveline's tale in a whole new light," Clements said. "It includes massive visual upgrades and a seemingly endless list of tweaks and optimizations. This chapter in the Assassin's Creed series features the same rich blend of stealth elements and combat. By donning different disguises, Aveline can traverse the environment and use the reactions of other characters to her advantage, be it the gown of a noble lady or the iconic garb of the Assassins."
For series fans who don't happen to own a PS3, now's your chance to see what Liberation is all about as this HD remake arrives on the last-gen console Tuesday afternoon.
The Raven: Legacy of a Mast Thief also hits the PS3 this week, offering players an adventure puzzle game of sorts in which they explore the world, question suspect, gather clues and try to determine if one of the world's most notorious crooks has returned to his old tricks.
The Vita is getting a bit of love this week, too, with two new games being added to its digital library. First up is a shiny new version of Age of Zombies. Originally a Mini for the PSP, AoZ is a twin-stick shooter putting the player in the role of Barry Steakfries, a time-traveling hero who must mow down zombies with all manner of weaponry throughout various periods of history. Doodle Devil also launches on the Vita this week, dishing out deliciously devious puzzling goodness themed after the seven deadly sins.
Finally, a new PSOne Import makes its way onto the PlayStation 3 this week in the form of Double Dragon. Not to be confused with the NES classic, this bad boy is actually based on the delightfully terrible 1990's movie. Rather than a two-player beat-em-up, this PSOne's Double Dragon is a fighting game sporting a roster of 12 combatants, each with their own crazy move sets and transformations.
Look for all of that and more once the PlayStation Network undergoes its regular weekly update Tuesday afternoon.
Your Daily Blend of Entertainment News
Staff Writer for CinemaBlend.