Batman: Arkham City Switching From GFWL To Steamworks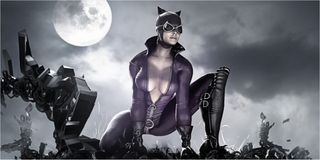 Add another one to the list. A new post on the Steam community forum for Batman: Arkham City has a post from Warner Bros Erik Miller who stated that Rocksteady is working to convert Arkham City and the GOTY Edition of the game over to Steamworks before Games For Windows Live shuts down next year.
The announcement post states that...
We had already previously mentioned that Batman Arkham Asylum was moving from Games For Windows Live to Steamworks in our list of games switching over services.
Many gamers were livid that Arkham City wasn't on the list and were hoping that there would be some sort of fix or patch offered by Warner Bros.
As it stands, one of the major problems with the GFWL version of Batman: Arkham City on PC is that a lot of people are cut out from being able to save their game in Arkham City or access any of the game's DLC (since you have to be able to save the game). Microsoft never offered a solution or fix for the problem, and directed angry gamers to the publisher for a solution, even though it was their douche-grade DRM that caused all the problems in the first place.
Warner Bros being proactive with their community and fanbase is a great thing for all of Warner's titles that were published with that abysmal GFWL at the core.
Still, Warner Bros. Games coming forward to announce that they're working to get their games fixed. The thread on NeoGaf also reminds gamers that Rocksteady's Batman: Arkham Asylum already has the software herpes known as GFWL cleansed from its play regions. It's safe to interact with Arkham Asylum again. Batman: Arkham Origins also bypassed GFWL as well, making it another safe bet for PC gamers.
The only downside for games switching from GFWL to Steamworks is that you'll lose all your save data. A small price to pay to no longer have to suffer through Securom and GFWL.
With Valve providing Steamworks SDK integration to publishers, developers and indies alike for free, it's still getting a little tense as the months count down and we're fast approaching July 1st, 2014 where Microsoft will officially shutdown Games Windows Live, which will be buried in the software graveyard with other failed services such as the MS Gaming Zone and the Games For Windows Marketplace.
We'll continue to keep you posted on publishers/developers taking an active role in patching out the DRM-gonorrhea that is Games For Windows Live.
Staff Writer at CinemaBlend.
Your Daily Blend of Entertainment News
Thank you for signing up to CinemaBlend. You will receive a verification email shortly.
There was a problem. Please refresh the page and try again.