Batman: Arkham Knight Adds Batman V Superman DLC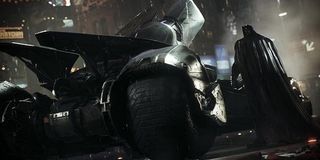 It looks like Batman: Arkham Knight fans are going to be kept plenty busy this month, with all sorts of new DLC coming to the Caped Crusader's latest outing including new missions and new skins for the Batsuit and Batmobile pulled straight out of the upcoming movie, Batman v superman: Dawn of Justice.
There's a lot of new content being added into Arkham Knight as part of the November update, including some spiffy new duds from the pointy-eared heroes upcoming romp on the silver screen. And the best part? It all arrives starting today.
Rocksteady Studios Marketing Game Producer Guy Perkins recently dropped by the PlayStation Blog to share details for Arkham Knight's latest batch of downloadable content, which includes a little bit of something for everyone.
Perkins explains that he's most excited for the new Batmobile and Batsuit skins that are available starting today, including a Robin and Riddler themed Batmobile, as well as a Batmobile and Batsuit pulled straight out of Batman v Superman. That movie won't arrive until we're deep into 2016, but you can go ahead and cruise around as Zak Snyder's vision of The Batman starting today. While most of the November lineup can be purchased piece meal or is included in the Season Pass, anyone with a copy of Arkham Knight will be able to enjoy the BvS content free of charge. Season Pass holders can enjoy a weeklong early jump on said content starting today, but it'll be available for all comers starting next Tuesday, Dec. 1. According to Perkins, the team put a lot of care and attention into bringing these pieces of movie magic to life within the game.
Outside of that, you can expect some brand new adventures for both Catwoman and Robin in today's update, including "Catwoman's Revenge" and "Flip of a Coin," in which the boy wonder takes on Two Face.
The new missions will also include their own AR Challenges for players to dig into, with another pair of racetracks on offer for those of you who can't get enough of cruising around Gotham in the Batmobile.
If you've got Arkham Knight, you can probably get to downloading all of that content right about…now.
Your Daily Blend of Entertainment News
Staff Writer for CinemaBlend.
Your Daily Blend of Entertainment News
Thank you for signing up to CinemaBlend. You will receive a verification email shortly.
There was a problem. Please refresh the page and try again.