Batman: Arkham Knight Still Has Tons Of DLC On The Way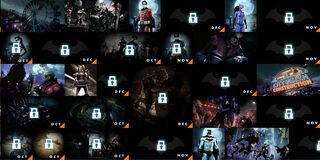 Warner Bros. has decided to be less mysterious about the upcoming downloadable content for Batman: Arkham Knight. Today they released full details on all the remaining DLC for the open-world action game.
WB has a wide range of add-ons on the way. Some of them are merely skins but many also bring new activities such as Batmobile tracks and standalone AR challenges. Players will also become Catwoman and Robin in two new adventures. Catwoman will be confronting the Riddler in his headquarters while Robin will be dealing with Two-Face.
Maybe the most interesting add-on on the way, though, is Season of Infamy. In this DLC, Batman will face many of his old foes including Mr. Freeze and Killer Croc. Unfortunately, this DLC won't be arriving for at least a couple more months.
Here's the full schedule of upcoming DLC for Arkham Knight, broken down by month:
OCTOBER
Batman Classic TV Series Batmobile Pack
Batmobile Track #1: Batcave Set
Batmobile Track #2: Penguin's Dockyard
Classic TV Series Catwoman Skin
Classic TV Series Robin Skin
1970s Batman Themed Batmobile Skin
Crime Fighter Challenge Pack #3
AR Challenge: Chemical Reaction
AR Challenge: Stage Fright
AR Challenge: Cauldron Speedway TT
AR Challenge: Guardians
AR Challenge: Precinct
AR Challenge: Vertigo
Free Updates
Character Selection in AR Combat Challenges
Optional Hard difficulty in AR Combat and Batmobile Combat Challenges
NOVEMBER
2016 Batman v Superman Batmobile Pack
2016 Batman v Superman Batman Skin
2016 Batman v Superman Batmobile
Wayne Tech Pack
Track #1: Proving Ground
Track #2: Waynetech Loop
Arkham Episode: Catwoman's Revenge - Includes 1 story mission and 2 AR challenge maps
Arkham Episode: A Flip of a Coin, starring Robin - Includes 1 story mission and 2 AR challenge maps
Arkham Episodes AR Challenge Update including maps from GCPD Lockdown
Robin and Batmobile Skins Pack
Robin Themed Batmobile Skin
Original Tim Drake Robin Skin
Riddler Themed Batmobile Skin
Crime Fighter Challenge Pack #4
AR Challenge: Clockwork
AR Challenge: Credit Crunch
AR Challenge: High Flyers
AR Challenge: Quarantine
AR Challenge: Wild Cat
AR Challenge: Divine Intervention
Free Update - Character Selection in AR Invisible Predator Challenges
DECEMBER
Season of Infamy: Most Wanted Expansion
Mission: Beneath The Surface (Killer Croc)
Mission: In From the Cold (Mister Freeze)
Mission: Wonderland (Mad Hatter)
Mission: Shadow War (Ra's Al Ghul)
2008 Movie Batman Skin
Original Arkham Batmobile
Crime Fighter Challenge Pack #5 - 6 TBC AR Challenges
This fall WB will also re-release the PC version of Batman: Arkham Knight, which had been taken out of stores due to technical issues. They estimate that the PC edition will go back on sale at the end of October. A patch for that version will allow PC gamers to access the same DLC as PS4 and Xbox One gamers.
Staff Writer at CinemaBlend.
Your Daily Blend of Entertainment News
Thank you for signing up to CinemaBlend. You will receive a verification email shortly.
There was a problem. Please refresh the page and try again.